iWowWe Review 2012
July 10, 2012
By Team Business For Home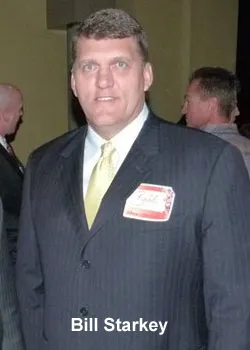 iWowWe is a leading developer of both Web & Smart Phone application. Bill Starkey is the CEO of iWowWe, which he founded in 2007.
iWowWe has developed a simple to use, proprietary, interface that makes it possible for everyone, from a child to a grandparent, to communicate using a variety of media formats online.
Previously, only a select few, highly skilled, groups of individuals could generate what Wow We has incorporated into a cost effective product with global appeal. iWowWe has a product mix designed to reach the masses; from individual consumers to fortune 500 businesses.
iWowWe is a certified Email Service Provider. the company maintains its own secure, fast data center. The company is based in The Woodlands, Texas, USA and received Better Business Bureau accreditation in August 2010.
iWowWe is also a pending member of the Direct Selling Association. Estimated revenue 2011 $10+ million and 30,000 distributors and customers.
https://www.youtube.com/watch?v=kynvZb1NnIA
Products
Video Email, Video Conferencing, Video Meeeting, Business Solutions.
Video Email:
Free of charge and includes:
No credit card required
No software to download
100's of templates
YouTube/Facebook integration
Live Customer Support
iWowWe Video Communication Suite
iWowWe's offering is low priced, you get everything for $20.00 a month. You can have up to a maximum of 100 participants in a meeting of which 12 participants can have face-to-face video sharing via their web cams. You can use the free teleconference option through which an additional 150 participants can join the meeting via phone to hear the audio portion of the on-line meeting.
You can create your own custom templates by uploading jpg, png, gif and bmp images.
Choose from hundreds of free templates.
iWowWe's contact Manager allows you to easily save your contacts and create groups.
You can have 100 attendees in a video conference.
Unlimited video email usage
Business Solutions:
Private Custom Graphics packages for small businesses and large companies$495 one time and $100 per month. You can have as many employees for as low as $10 per user.
https://www.youtube.com/watch?v=oA-4-2XQ2cc
iWowWe Compensation Plan
The comp. plan is called the Cooperative Compensation because IWowWe don't believe in competing with others to make a living but in building wealth together as a team. The phase of iWowWe's system provide lifetime rewards for taking action within your first 30 days, and then builds a bridge to your ultimate income and financial security.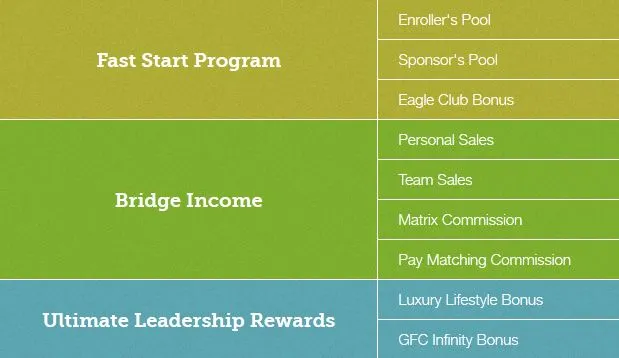 Affiliate Program, and a Forced Matrix compensation plan. Over a 50% payout. The cost to join as a Premium Affiliate is $195.00 which includes your first month of 100 participant video conferencing and your Custom Affiliate Templates, Videos, Banners and Marketing Material. When someone you refer joins as a Premium Affiliate you will make $50 as a fast start bonus.
01: Fast Start Enroller's Pool: Like lifelong profit sharing
Earn a share in this pool for sponsoring 4 Premium accounts in your first 30 days and keep it for life!
02: Fast Start Sponsor's Pool: Helping others has its rewards
Earn unlimited shares in this pool when one of your Personals get 4 Personal Premium accounts in their first 30 days!
03: Fast Start Eagle Club Bonus: Ongoing Bonuses Always Available To You
Each month, all Affiliates with a Premium product package can earn $100 for every 4 new Premiums they enroll. This provides outstanding control over the amount of money an Affiliate can make from the very start and beyond.
04: Personal Sales: Immediate one-time cash commissions for you
Receive a commission every time you personally sell a product package.
05: Team Sales: Leadership pays, and pays well!
Every new product sale in WowWe generates two Team Sales Commissions (Initial and Secondary) up through the Sponsorship Line to the next leader.
06: Matrix Commission: Your ongoing 401k-like income
Realize massive earning potential with a structure of over 29,000 income-generating slots.
07: Pay Matching Commission: Matching the efforts of your team down 4 generations
Enroll new affiliates and qualify to receive a composite 100% bonus that matches the matrix pay of those you personally enroll and those that they enroll down 4 generations.
08: Luxury Lifestyle Bonus: WowWe Delivers on the Dream!
Cash for cars or fabulous vacations twice a year… WowWe will help you realize these dreams just for achieving success. Never pay for another vacation again and enjoy special Dream Vacations with WowWe corporate executives and other Field Leaders.
09: GFC Infinity Bonus: Powerful Bonuses that Extend your Infinite Earning Even Farther!
Reach the highest ranks of leadership and extend your income from well below your organization… potentially without limit!
https://www.youtube.com/watch?v=bp5c6pVINFI
Corporate leadership
Bill Starkey – CEO, Michael Nolen – Vice President Research and Development, Casey Minshew – Vice President Operations, Jake A. Stevenson – Director of Technical Development, Richard Bateman – Director of IT Infrastructure and Database.

https://www.youtube.com/user/iWowWe#p/u/23/Qh7UKzkJI4E
iWowWe Alexa Ratings, 3 months growth 35%. Worldwide rank 4,902
Iwowwe.com has a three-month global Alexa traffic rank of 4,902. While this site is ranked #556 in Russia, where we estimate that 50% of its visitors are located, it is also popular in Kazakhstan, where it is ranked #381.
Relative to the overall population of internet users, this site's users tend to be over the age of 35, and they tend to be both high- and low-income women browsing from home who have more children and are not college graduates.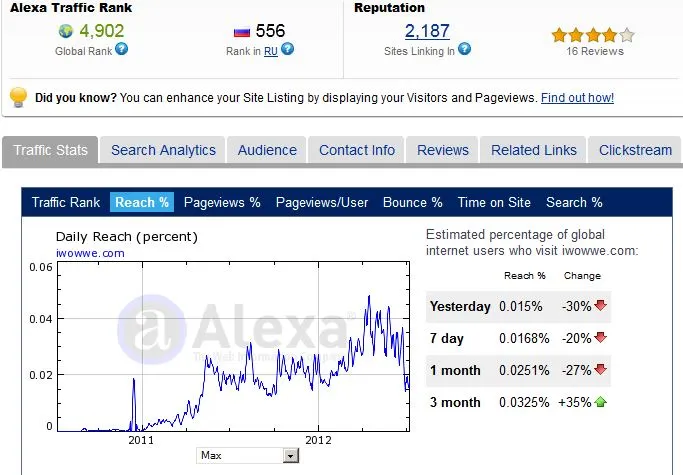 iWowWe Top Producers
| | | | |
| --- | --- | --- | --- |
| | | | |
| J.J.Ulrich | Rick Everts | Seth Everts | Gail Johnson |
| | | | |
| Attila Juhasz | Jah Ahlin | Robert Miura | Yevgen Svodboda |
iWowWe Top Earners, the est. earnings are as follows:
[private_platinum]
DISCLAIMER:
The information contained in this website is for general information purposes only. While we endeavour to keep the information up to date and correct, we make no representations or warranties of any kind, express or implied, about the completeness, accuracy, reliability, suitability or availability with respect to the website or the information, products, services, or related graphics contained on the website for any purpose. In no event will we be liable for any loss or damage including without limitation, indirect or consequential loss or damage, or any loss or damage whatsoever arising from loss of data or profits arising out of, or in connection with, the use of this website.
Through this website you are able to link to other websites which are not under the control of Business For Home. We have no control over the nature, content and availability of those sites. The inclusion of any links does not necessarily imply a recommendation or endorse the views expressed within them. Every effort is made to keep the website up and running smoothly. However, Business For Home takes no responsibility for, and will not be liable for, the website being temporarily unavailable due to technical issues beyond our control.
[/private_platinum]