Trade4profit Closed Down
October 3, 2013
By Team Business For Home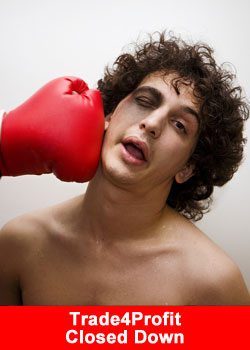 Trade4Profit a Belgium MLM – FOREX company is out of business and closed down operations on October 1.
The Dutch AFM a SEC organisation has warned in the past against Trade4profit and the AFM imposes an order for incremental penalty payments on the manager of Trade4Profit.
The Netherlands Authority for the Financial Markets (AFM) imposed an order for incremental penalty payments on Mr J.A.P.L. van der Leest (Mr Van der Leest), for failing to comply with requests for information from the AFM.

The information was requested because he is the manager of Trade4Profit bvba (currently InPro Group bvba), a Belgian company that is presumed to have provided investment services to Dutch consumers, and/or continues to provide these services, without the required AFM licence.
Trade4Profit bvba offers consumers the opportunity to invest in (foreign) exchange products (forex), by becoming participants. It is illegal to perform investment services in the Netherlands without an AFM licence. This may constitute a violation of Article 2:96 of the Financial Supervision Act (Wft). The AFM requires the requested information in order to establish whether this Act has been violated and to establish to what extent Mr Van der Leest was involved in this violation.
Mr Van der Leest, resident of Heerlen, did not supply the requested information by the deadline and is therefore required to make incremental penalty payments. The requested information still needs to be provided to the AFM. The incremental penalty payments will increase by €5,000 for every day Mr Van der Leest fails to comply with the order, subject to a maximum amount of €50,000 in total.
The AFM calls on the public to share information on Trade4Profit bvba with the AFM. If you wish to do so, you can contact the Financial Markets Information Line on:
0900-5400 540 (5 euro cents per minute).
The AFM promotes fairness and transparency within financial markets. We are the independent supervisory authority for the savings, lending, investment and insurance markets. The AFM promotes the conscientious provision of financial services to consumers and supervises the honest and efficient operation of the capital markets. Our aim is to improve consumers' and the business sector's confidence in the financial markets, both in the Netherlands and abroad. In performing this task the AFM contributes to the prosperity and economic reputation of the Netherlands.