Jeunesse Winner of 6 Stevie Awards
June 21, 2014
By Team Business For Home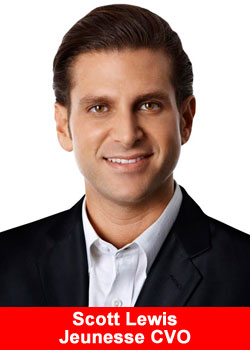 Jeunesse Bestowed Prestigious Stevie Awards Winner of 6 American Business Awards.
Jeunesse, a leading direct selling company devoted to health and wellness, has just been announced as the winner of 6 American Business Awards. These prestigious awards are sought after by Fortune 500 Companies across the nation; Jeunesse is joined by Google, Sony, Cisco Systems, Beats Electronics, Vimeo, and NASCAR, among others.
More than 3,300 nominations from organizations of all sizes and in virtually every industry were submitted this year for consideration in a wide range of categories, including Management Team of the Year, Best New Product or Service of the Year, Corporate Social Responsibility Program of the Year, and Executive of the Year.
Jeunesse was bestowed awards in multiple divisions: Company of the Year, Marketing Department of the Year, Marketing Executive of the Year, Corporate Social Responsibility Program of the Year, Best Sales Video, and Best Corporate Overview Video.
More than 150 leaders of several specialized committees determined Stevie Award placements from among the Finalists during the last round of judging in April and May. Jeunesse outmatched billion dollar organizations like Sony, Google, and AT&T for these awards, marking its position as a global leader in business.
Chief Visionary Officer, Scott Lewis says, "We have always placed a high priority on innovation and creation, while developing a world-class Marketing Team that continues to position Jeunesse at the forefront of the latest technologies and represents our global brand in an unparalleled space within the industry.
Our Marketing Team has put in countless passionate hours, enhancing our brand by developing cutting-edge marketing tools and systems. It is a tremendous honor for the entire Jeunesse family to be recognized with such well-respected global brands. Our gratitude lies with our distributors and field leaders all over the world, who lead the charge in sharing our collective mission to change people's lives while making Jeunesse a household, world-renowned brand."
The American Business Awards are the nation's premier business awards program. All organizations operating in the U.S.A. are eligible to submit nominations—public and private, for-profit and non-profit, large and small. The American Business Awards are presented at two awards events: the ABA's traditional banquet on Friday, June 13 in Chicago and the new product & technology awards event on Friday, September 12 in San Francisco. Additional winners will be announced in September.
About the Stevie Awards
Stevie Awards are conferred in five programs: The American Business Awards, The International Business Awards, the Asia-Pacific Stevie Awards, the Stevie Awards for Women in Business, and the Stevie Awards for Sales & Customer Service. A sixth program, the German Stevie Awards, will debut later this year.
Honoring organizations of all types and sizes and the people behind them, the Stevies recognize outstanding performances in the workplace worldwide. Learn more about the Stevie Awards at: www.StevieAwards.com.
Details about The American Business Awards and the list of Finalists in all categories are available at: www.StevieAwards.com/ABA.
About Jeunesse Global
Jeunesse is a leading direct selling company devoted to encouraging its distributors to look and feel younger, earn more, and enjoy life. Company research focuses on adult stem cell technology, telomere support, DNA repair, and nutrigenomics. Products are made in the U.S.A. and are exclusively formulated for Jeunesse.
With a multi-lingual customer service, back office support team, global enrollment system, and in-house programming already in place, the company is fully operational in 22 offices around the world. Its distribution channels extend to over 90 countries. Jeunesse and the Jeunesse logo are registered trademarks of Jeunesse Global, LLC in the U.S. and/or other countries. For more information, please visit: www.jeunesseglobal.com.
Follow Jeunesse on Facebook or Twitter
https://www.facebook.com/TheScienceOfYouthfulAging
https://twitter.com/jeunesseglobal