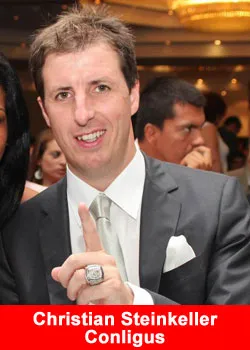 Organo Gold Crown Diamonds Christian and Aron Steinkeller Join Conligus
October 5, 2014
A big blow for Organo Gold:
Christian, Aron and Stephan Steinkeller are from South Tyrol, Italy near the Austrian border. Combined estimated earnings for the 3 brothers has been $300,000 – $500,000+ per month in 2013.
Their Organo Gold team had a size of hundreds of thousands distributors.
Christian Steinkeller was personally enrolled by top earner Holton Buggs.
On 2nd January 2010, the three brothers met with Buggs and got his OK for the Europen opening. As appointed representatives of Organo Gold, the "Three Musketeers" prepared the ground for the company's expansion into the old continent.
There are only a couple Crown Diamonds in Organo Gold, one of the top ranks, and Christiaan and Aron has reached this position.
However according to diamonds and above, the Organo Gold compensation plan is not substainable on the long term.
Something we have written about in August 2013.
Organo Gold Compensation Plan Review – Only For MLM Super Stars?
A former OG Blue Diamond:
The compensation plan is a mess in the long term, its ZERO organic volume, you have to keep enrolling all the time and pushing volume from event to event if you want to keep making money, there is no actual organic volume.
An other former top ranked distributor commented:
The compensation plan pays too many people to less, and too few people too much.
It seems even the Steinkeller brothers have had it with very heavy qualifications and are moving forward to Conligus a penny auction E-commerce company.
Conligus has launched of October 4, the Steinkeller 's come up in this video after 63 minutes:
https://www.youtube.com/watch?v=Tx_oHgfN54c
Get more information, fact and figures about Organo, click here for the Organo overview.