Jamie At Home Out Of Business
January 30, 2015
By Team Business For Home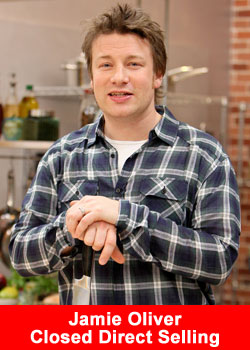 TV cook Jamie Oliver's direct sales/network marketing organisation – Jamie At Home, seems to have ceased operations a couple of weeks ago.
So far, there seems to be no official announcement, leaving a couple of thousand distributors to speculate.
The only message appearing when accessing the website www.jamieathome.com is
Unfortunately we have sold through on all products lines.
Basically as a distributor that puts you out of business. Seems Jamie Oliver ceased operations without any communication to the field.
The business expanded opening up in the USA, about a year ago after being establish in the UK.
Jamie Oliver appointed a husband and wife team, as CEO's.
According to the website: Jamie At Home is an eclectic collection of products inspired by Jamie's relaxed approach to eating, entertaining and enjoying life available primarily through Jamie at Home self employed consultants.
The USA website is still live, however signing up as a consultant triggers an server error.
Seems like Jamie Oliver left the reps in the dust…
About Jamie At Home (USA):
Jamie Oliver At Home is a direct sales business offering self-employed Consultants the chance to work in partnership with Jamie to sell the gorgeous Jme product range. We give anyone the opportunity to earn some extra cash, meet new people, or simply share Jamie's passion for bringing people together and getting them in the kitchen to have some fun.
We're proud to say that since launching in early 2009 in the UK, more than 4,000 people have joined Jamie at Home, making it one of the fastest growing direct selling businesses in the country! We plan to achieve similar success in the US, giving people the chance to get involved, impact their health and financial well-being, and spread Jamie's love of beautiful products and good food.