Zija International To Hold Grand Opening Event In Korea
March 13, 2015
By Nicole Dunkley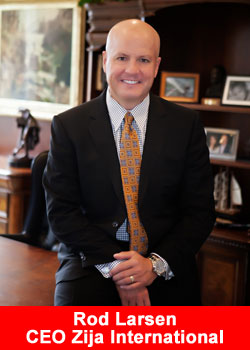 Following a successful pre-launch period in South Korea, Zija International will hold an official grand opening event later this month in Seoul.
The company will highlight the launch of new products, provide training from keynote speakers and local leaders, and recognize its Distributors who are already succeeding at building their business in Korea.
Speakers at the grand opening to include Zija International's Founder, Ken Brailsford, President and CEO, Rodney Larsen, Vice President of New Market Development, Cathy Yeates, Vice President of Research and Development, Dr. Joshua Plant, Regional Director of Southeast Asia and Korea, Bryant Eggett, and key field leaders including David Moses, Joel McNinch, Takashi Ichikawa, and Thomas Waggoner.
DATE: March 28, 2015
TIME: 14:00 p.m. – 18:00 p.m. (Korea Time)
LOCATION: COEX Auditorium (3fl.) (COEX, World Trade Center Samseong-dong, Gangnam-gu, Seoul 135-731, Korea)
REGISTRATION: Individual registration costs 10,000 KRW ($10 USD). Buy tickets in bulk for a discount—10 tickets for 80,000 KRW (20% discount) or 50 tickets for 350,000 KRW (30% discount). Pay by cash only at the Zija office in Seoul from March 9-21. Purchase early as ticket quantities are limited, and you must have a ticket to access to event. Unless you get the ticket, you cannot get access to the event.
Zija experienced multimillion-dollar success in the first month of their pre-launch in South Korea, which has been successfully followed by additional seven-figure sales revenues. The company entered South Korea with the Moringa-based SuperMix nutritional supplement drink. The company plans to quickly expand their product offering in South Korea.
About Zija International
Zija International, a privately held and privately funded business founded by Kenneth E. Brailsford and run by Rodney Larsen, develops natural health, wellness, nutrition and fitness products. The company operates in more than 50 countries worldwide.
Zija has seen consistent growth every year since it was founded over 9 years ago and was recently named the "Fastest-Growing Company in Utah" by Utah Business Magazine. It has also been recognized on fastest-growing and top-revenue lists by Inc. Magazine, Direct Selling News, and Utah Valley Magazine, to name a few.
With corporate offices located in Lehi and more than 4 million sq. ft. of state-of-the-art warehouse, shipping and manufacturing facilities located in Utah, United States, Zija International employs more than 200 individuals and has the capacity to grow to more than two billion dollars in annual sales.