OneCoin – 240,000 Paid Members After 5 Months
May 3, 2015
By Team Business For Home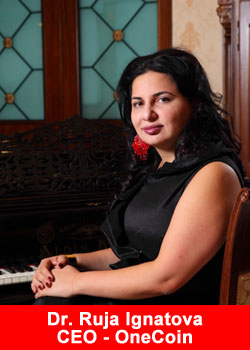 Digital currency MLM OneCoin has started in September 2014 by Dr. Ruja Ignatova, who was born in Bulgaria and had her education in the United Kingdom and Germany.
In November – December 2014, the company had about 10,000 paid members. As of May 2015 after another five months 240,000 paid members. The company has set a goal to be over 500,000 paid members before the year end.
The company has a payment frequencies at 80-85 % of all enrolling in the company. Training package costs 130 euros to 5,030 euros. Both management and good leadership structure of the company has made to become a big success.
Compensation plan has a cap on payouts per week at 35,000 euros per position. The company has over 140 members today who earn over 35,000 euros per week. As well as several thousand members who earn anything between 1,000 – 25,000 euros a week.
The company has several talented leaders from around the world who are 6-7 digit in income from other companies, and incredible number of networkers contact the company daily now. Also other MLM companies and private market contact Onecoin for cooperation in terms of payment.
Asia is Onecoin's stronghold now however the company is expanding quickly in Europe thanks to the merger with Conligus in April 2015, who had a massive base there. Onecoin have lawyers who handles legal matters both i Europne as Asia, and the company looks at other markets where they have several local big MLM lawyers. Onecoin today has several offices such as, Sofia (Bulgaria), Dubai, Hong Kong, Bangkok (Thailand) and several small offices where the company has a large structure
15 May in Dubai, OneCoin will launch more products and services to their biggest event so far to both the network and the customers. Onecoin have had to change rooms several times because many people registered for the event.