QNET Appoints Scientific Advisory Board
August 12, 2015
By Team Business For Home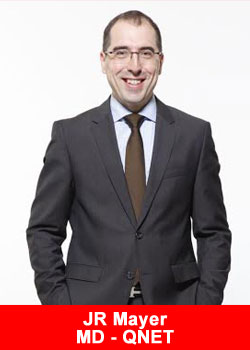 QNET is strengthening its presence in the Health and Wellness area by establishing a Scientific Advisory Board (SAB). The new Board is a revolutionary platform for collaboration between QNET's product development teams and leadership, and the scientific and medical communities.
"Our aim is to get critical analysis from experts to keep us at the forefront of new trends and opportunities with wellness, lifestyle and healthy ageing products. We truly want to offer our customers the best for their health and well-being, and this group of highly acclaimed individuals will help us achieve that," says QNET Chief Product Officer Phil Koh.
QNET's inaugural SAB includes four distinguished members from the international scientific community. Dr Selvam Rengasamy from Malaysia, Professor Jeon Hyoung-Tag from Korea, Professor Konstantin Korotkov from Russia and Dr Mohsin Wali from India.
Dr Selvam Rengasamy has been practicing medicine for the past 28 years and has been an Obstetrician and Gynaecologist for the past 20 years. He is president of the Society for Advancement of Hormones and Healthy Aging Medicine in Malaysia and a member of the Australasian College of Nutritional and Environmental Medicine. He is also a Board Certified Anti-Aging Physician from American Academy of Anti-Aging & Regenerative Medicine.
Professor Jeon Hyoung-Tag is the founder and CEO of Biocera one of the leading alkaline antioxidant water systems supplier company in more than 40 Countries. Prof Jeon is himself a certified water specialist by Water Quality Association and well known in his field owing to a trove of patents on using ceramic balls to condition water. He is a professor at Korea's Woosuk University and a technical advisor to Korea's National Antibacterial Agent Standard Establishment.
Professor Konstantin Korotkov is a world leader in the study of the human bio-energetic field. He has published over 200 papers in leading journals on physics and biology, and he holds 17 patents on biophysics inventions. Prof. Korotkov has led a research career for over 30 years, combining rigorous scientific method with an insatiable curiosity about things of the spirit and the soul with deep respect for all life. He is currently the President of the International Union of Medical and Applied Bioelectrography and is a professor at ITMO University in Saint Petersburg.
Dr.Mohsin Wali is currently a consultant in medicine at Post Grade Institute of Medical Research and Education, at the Dr. Ram Manohar Lohia Hospital, New Delhi. He has the distinct honour of serving as full time physicians to three Presidents of India. He was also instrumental in launching Geriatric Medicine in India through the faculty of Geriatric medicine, Ann Arbor, university of Michigan USA.