LifeVantage Launches TrueScience Micro Lift Serum
October 30, 2015
By Team Business For Home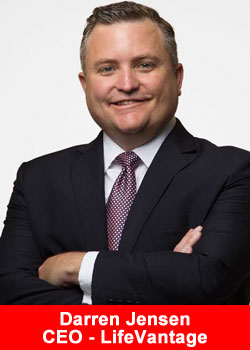 LifeVantage Corporation (Nasdaq: LFVN), has launched TrueScience Micro Lift Serum for immediate distribution in the United States.
The TrueScience Micro Lift Serum is a natural way to instantly diminish the look of crow's feet, baggy skin, and dark circles around the eyes.
In as little as 3 minutes, it visibly tightens, smooths, and firms the skin around the eyes, quickly restoring a youthful looking radiance without sacrificing long-term skin health.
The TrueScience Micro Lift Serum pairs with the revolutionary TrueScience™ Skin Care system and is only available from LifeVantage.
"Customers today expect instant results from the products they use," said LifeVantage President and Chief Executive Officer Darren Jansen.
"Our TrueScience Micro Lift Serum is in alignment with our strategy of offering demonstrable and effective products. It's the ideal companion to our TrueScience skin care system that uses proven ingredients to take years off of your appearance and now provides instant and long term anti-aging benefits."
CLICK HERE to see why we are so excited about the newest addition to TrueScience™ skin care system.
About LifeVantage Corporation
LifeVantage Corporation (Nasdaq: LFVN), is a science based network marketing company dedicated to visionary science that looks to transform health, wellness and anti-aging internally and externally at the cellular level.
The company is the maker of Protandim®, the Nrf2 Synergizer® patented dietary supplement, the TrueScience™ Anti-Aging Skin Care system, Canine Health, and the AXIO™ energy product line. LifeVantage was founded in 2003 and is headquartered in Salt Lake City, Utah.