OneCoin CEO Speaks At EU-Southeast Europe Summit
October 22, 2015
By Team Business For Home International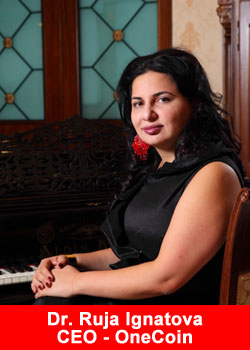 On October 15th, the Founder and Owner of OneCoin, Dr. Ruja Ignatova, gave an inspiring speech about the Future of Payments at the Fourth EU-Southeast Europe Summit, held by the Economist.
Prominent Economist journalists and analysts, bankers, economists, politicians as well as businessmen from Google and Uber were among the speakers. The Summit entitled "Countdown to Stability and Growth" brought up for discussion financial, economic, geopolitical, technology and innovation topics.
In her presentation, Dr. Ruja Ignatova discussed the way globalization and technology changed businesses and people as well as the challenges and opportunities that businesses face in emerging markets.
Dr. Ruja Ignatova was amongst panelists, discussing the revolution of the financial sector through cryptocurrencies and digital payments in modern economies during the second day of the Fourth EU-Southeast Europe Summit.
About OnceCoin
One is headquartered in Europe with worldwide operations. We focus on core markets such as South East Asian countries, Europe, India and Africa. The company is commited to growth and is opening new regional offices worldwide. The fast expansion is due to the growth of its traders and we have set the goal of creating a market with more than 1 million traders and issuing 2.1 bn OneCoins.
OneCoin is more than just a cryptocurrency. To make it successful and unique, we have created a whole concept and universe to make One a market leader in the crypto world. We offer core financial education on crypto-currency in the OneAcademy, an online exchange, and we partner with one of the hottest and newest hybrid crypto-currencies – the Aurum coin. OneCoin uses the latest cryptographic technology and security standards and has a solid marketing concept – enhanced by the OneLife Plan.
We offer a high-income opportunity with an extensive bonus program connected to the best lifestyle awards. We offer our traders a one time opportunity to profit from holding the two of the hottest and most innovative products in the emerging crypto-currency market – OneCoins and Aurum Gold Coins, an unique hybrid currency that is backed up by real and solid gold.