Talk Fusion IT Specialists To Make First Appearance At Dream Getaway
October 21, 2015
By Nicole Dunkley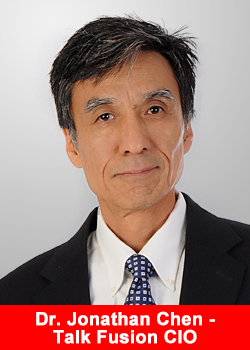 Attendees of the Dream Getaway Hawaiian vacation incentive have always looked forward to experiencing the life-changing message of Talk Fusion in a stunning island location. The upcoming 5 day, 4 night December trip to the Grand Wailea Resort in Maui promises to be their most thrilling adventure yet.
Talk Fusion has announced a special treat for the qualified Associates who join them on this trip. For the first time ever, the company's innovative IT Specialists, who keep Talk Fusion's video communication products far ahead of the competition, will make their first live Dream Getaway appearance and be on-hand to give guests a unique insight into the company's vision plus an exclusive sneak peek before anyone else in the world.
Director of Information Technology Dr. Jonathan Chen will lead a round table panel of the company's top programmers, as they take questions from an eager crowd and lift the curtain on a special Talk Fusion preview. Specifics of the reveal remain a guarded secret, but with the IT Department in attendance, the topic will certainly turn towards Talk Fusion's industry-exclusive video products and the future.
No matter what enhancements, renovations, upgrades, or additions may be announced, the Associates who earned their spot in December's Dream Getaway will get the world premier first look.
"People fly in from all over the world, many different countries," said Founder & CEO Bob Reina. "We get to spend more time with our leadership to talk about vision, where we're going, timing, all the exciting things we're about to unveil. Last year, we basically relaunched the whole company. This year things are even more exciting."
"If you work hard, you can join us for the next Dream Getaway. Believe me, you don't want to miss what we have in store," VP of Training and Development Allison Roberts said. "I can't wait for our talented IT Team to share what we've been working on with our Associates in Maui. That peek at the vision for Talk Fusion's future is a perfect reward for their hard work."
Three weeks still remain for dedicated Talk Fusion Associates to "Go Diamond" and qualify by the November 8 deadline. Those who earn the invitation for the next Dream Getaway, to be held December 3-7, will discover a new adventure filled with inspiring motivational sessions, exclusive company insight, and the opportunity to be mentored by some of network marketing's most successful leaders.
A photo experience of the recent May 2015 trip can be found on the official Talk Fusion Facebook page. Additional information about this luxury incentive is available at TalkFusion.com/dream-getaway.
ABOUT TALK FUSION
A trend-setting industry leader, Talk Fusion has been connecting people around the world since 2007 through cutting-edge video technology for social and business communication. Talk Fusion's innovative video products are marketed person-to-person by independent Associates in more than 140 countries, empowering them to earn the financial freedom to live their dreams.
Founded in 2007 by CEO Bob Reina, Talk Fusion introduced the world's first Instant Pay Compensation Plan. Talk Fusion adheres to the highest ethical business practices and is a member of the prestigious Direct Selling Association (DSA). Reina firmly believes that "with great success comes greater responsibility."
Talk Fusion fosters a strong commitment to giving back to friends, family, communities, and animal charities across the world to produce a positive global change. Learn more at www.TalkFusion.com and "Like" Talk Fusion at www.facebook.com/TalkFusion.
Income Disclaimer:
Any earnings portrayed in any Talk Fusion marketing materials are not necessarily representative of the income, if any, that a Talk Fusion Associate can or will earn through his or her participation in the Talk Fusion Instant Pay Compensation Plan. All references to income, implied or stated, throughout the Talk Fusion Instant Pay Compensation Plan are for illustrative purposes only. These figures should not be considered as guarantees or projections of your actual earnings or profits. Talk Fusion does NOT guarantee any level of income or earnings to any Associate; any representation or guarantee of earnings would be misleading. The purchase of a Talk Fusion Product Package is completely optional and is not required for an Associate to participate in the Talk Fusion Instant Pay Compensation Plan.