Avon 2015 Q3 Down 22% To $587.4 Million
November 10, 2015
By Nicole Dunkley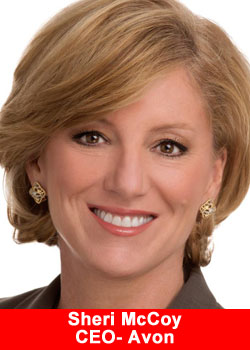 Avon Products Inc. reported a deep quarterly loss and a weakening cash position, sparking renewed concerns about the beauty company's liquidity as it works through a difficult turnaround, according to Nasdaq.
Avon shares fell 19% in intraday trading on November 4 to $3.50, giving the company a market value of $1.8 billion. The shares have dropped 62% in the year to date.
The door-to-door seller of cosmetics and accessories posted disappointing third-quarter results, in which revenue slumped 22% and Avon's ranks of active representatives continued to thin in the U.S. and many parts of the world. The New York-based company also lowered its sales and profit margin forecasts for the full year, underscoring its struggles to attain growth.
Avon's chief financial officer, James Scully, said the company is weighing plans for its dividend next year in light of foreign currency headwinds that have reduced its cash flow and earnings. Avon currently pays quarterly dividends of 6 cents a share, for a total of about $100 million in annual cash payouts to shareholders.
It would be prudent to look at the dividend with a more critical lens, Mr. Scully said on a conference call to discuss Avon's results.
The company ended the third quarter with $587.4 million in cash, down from $960.5 million at the start of the year. Its operations used up $97 million in cash in the third quarter, including a $67 million payment made to the Securities and Exchange Commission to settle an earlier bribery probe. Avon also retired some debt ahead of schedule with the help of proceeds from a recent asset divestment. It ended September with more than $2 billion in long-term debt.
Avon executives on Wednesday declined to discuss capital-raising options the company is considering. The Wall Street Journal reported in September that Avon was in talks to sell a stake to a private-equity firm and has considered other options for its business, including a sale of the entire company.
Sometimes the media gets it wrong, sometimes it gets it right. I won't comment on speculation, Avon Chief Executive Sherilyn McCoy said when asked by analysts whether the company was still exploring strategic options.
Mr. Scully said he is comfortable Avon has the liquidity it needs to execute on its turnaround plans amid a backdrop of many foreign currencies continuing to weaken against the U.S. dollar. More than 80% of Avon's revenue comes from outside the U.S.
In the third quarter, foreign currency declines reduced Avon's revenue by 20 percentage points. In constant-dollar terms, the company's revenue slipped 2%. Overall revenue came in at $1.67 billion.
Avon reported a loss of $697 million, or $1.58 a share, compared with a profit of $91.4 million, or 21 cents, a year earlier. The results were hurt by restructuring costs, charges related to its Venezuela business, and the sale of a natural skin care line called Liz Earle.
Avon sells a wide range of cosmetics, perfumes and accessories through a network of roughly 6 million representatives world-wide. The company has struggled for years to reverse sales declines in many countries and to recruit more sales representatives who will sell its products consistently.
The number of Avon representatives actively selling products slipped 1% in the recent quarter from a year ago, driven by a continued drop in sellers in North America, where sales fell 17% and the business returned to the red. Avon said it recruited more representatives in a few countries, including Russia and Brazil, in the third quarter.
The company announced a new date for an investor event it postponed this past April while it was exploring options for its business. The event will now be held in late January.
About Avon Products, Inc.
Avon is the company that for more than 125 years has stood for beauty, innovation, optimism and, above all, for women. With nearly $9 billion in annual revenue, Avon products are sold through 6 million active independent Avon Sales Representatives worldwide. Avon products include color cosmetics, skincare, fragrance, and fashion and home, featuring such well-recognized brand names as Avon Color, ANEW, Avon Care, Skin-So-Soft, and Advance Techniques.