Igor Alberts And Andrea Cimbala – OneCoin Hit $95,000 Per Month
November 6, 2015
By Team Business For Home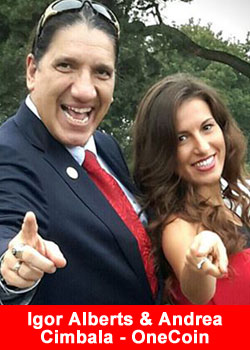 Igor Alberts – born in the Netherlands and his partner Andrea Cimbala have joined OneCoin and the One Dream Team one month ago, and announced Euro 89.000 ($95,000) in monthly income. They are part of the Steinkeller Brothers team.
A remarkable achievement by their fast growing team.
Igor Alberts stated:
'It was one month ago that we realized the full potential of One Coin, I looked at Andrea sitting in the audience at the amazing Macau event.
We both knew: This is the moment… From that moment One Coin had all our focus, attention and devotion. We are very proud of this result, but know it's only the beginning!'
Igor and Andrea have thanked the One Dream Team for all their help and support. They're excellent team effort had paid off! Some other top earners in the team this month have as well made extraordinary achievements:
Lulian & Andrea Cimbala (Italy) = €18.051
Marisa Honing (The Netherlands) = €13.714
Gheorghe Groapa (Romania) = €10.220
Mihaela Litu (Romania) = €6.183
Andrea Cimbala stated:
'It's an amazing feeling to share our achievements with all the people in the team. Everybody supports each other. I love the fact that my saying get's proven over and over again! '

"There is no exercise better for the heart than reaching down and lifting people up."
About OnceCoin
One is headquartered in Europe with worldwide operations. We focus on core markets such as South East Asian countries, Europe, India and Africa. The company is commited to growth and is opening new regional offices worldwide. The fast expansion is due to the growth of its traders and we have set the goal of creating a market with more than 1 million traders and issuing 2.1 bn OneCoins.
OneCoin is more than just a cryptocurrency. To make it successful and unique, we have created a whole concept and universe to make One a market leader in the crypto world. We offer core financial education on crypto-currency in the OneAcademy, an online exchange, and we partner with one of the hottest and newest hybrid crypto-currencies – the Aurum coin. OneCoin uses the latest cryptographic technology and security standards and has a solid marketing concept – enhanced by the OneLife Plan. OneCoins and Aurum Gold Coins, an unique hybrid currency that is backed up by real and solid gold.