People Magazine Profiles Visalus CEO
November 9, 2015
By Team Business For Home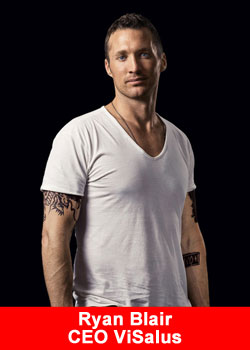 The latest issue of People magazine this week has a profile story on Ryan Blair, the founder and CEO of Visalus. The story traces Ryan's Inspiring Journey from Juvenile Delinquent to Multimillionaire Entrepreneur.
Entrepreneur Ryan Blair, who runs a business empire worth hundreds of millions of dollars, still remembers that painful day he knew he needed to change his life.

I was 16 and had been arrested for strong arm robbery, says Blair, who at the time was running with a violent street gang in Ventura, California, and often rummaging through dumpsters for food.

I was in handcuffs and my legs were shackled and I looked over and saw this old man shuffling by me in chains. Suddenly I realized, 'I want more out of my life than this.'
Not long afterwards, Blair's divorced mother began dating a wealthy real estate entrepreneur, who became a mentor for the troubled teen. He taught me that the most successful people in the world are those who can sell others on an idea, a vision or a product, says Blair, who eventually returned to finish high school, then attended college.
At 21, the self-taught computer whiz started his first tech company and three years later he sold his second venture for $25 million. Now 38, Blair has made a fortune creating and selling businesses, including a $792 million deal in 2008 for ViSalus, the weight-loss and fitness company where he now serves as CEO.
In between his business ventures, Blair, who co-parents his 6-year-old autistic son Reagan with the boy's mother, created the Blair Foundation and has given millions to fight poverty and help at-risk teens.
Never in a million years did I imagine I'd lead the life I have today, says Blair, who apologized to those he hurt during his years as a criminal in his 2011 bestselling business book Nothing to Lose. But I've always believed that the only reason I've been so successful is to do something tremendous with it.
About ViSalus
ViSalus is a healthy lifestyle company committed to transforming life, health and prosperity around the world by creating meaningful connections, supporting physical transformations, and promoting entrepreneurial freedom. Through its flagship program, The Challenge, ViSalus has developed a leading platform for achieving weight-loss, health and fitness results. With NEON Energy Drink®, Vi is quickly revolutionizing the booming energy drink market with a top-shelf option that fits into Vi's healthy lifestyle.
Founded in 2005, ViSalus develops innovative weight-management products, functional foods, energy drinks and nutritional supplements that it markets and sells direct-to-consumers through an international sales force of independent Promoters. ViSalus offers its products in North America under the ViSalus® brand and in Europe under the Vi™ brand. ViSalus is headquartered in Troy, Michigan, with offices in Los Angeles and throughout Europe.