Top Industry Leader Jose Gordo Joins OneCoin
November 25, 2015
By Team Business For Home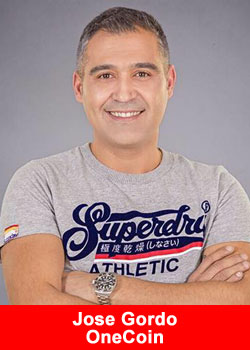 Being almost able to celebrate his 10 year anniversary in the Network Marketing industry, Jose Gordo from Spain has been developing himself as a true leader.
Aged 39 and 9 years in the industry Jose Gordo knows from experience that the starting point for any dreamer is the same for everyone.
Jose Gordo stated:
"Following your dreams is actually very simple. You just have to do it. I can't tell you how many times I meet people that are scared and afraid to change their life. I can see they want to do it, but there's nobody out there that encourages them to do so.
I started to realize that this situation applies to a lot of people.. That's why I started to motivate and help people to stop being scared and start changing their life"
This knowledge wasn't something Gordo got by birth, he learned by developing himself into an independent and free thinking entrepreneur. He applies the same formula to everything he does in life:
The difference between achieving your goals to reach or stay on the road, lies in the preparation and constant dedication.
Jose has seen an explosive growth in his network and earnings. Proud as he is by achieving his goals in record speed, Gordo stays humble:
"We are destined to reach the highest level! The One Dream Team is an incredible group of people that with all their experience and knowledge really has become the elite of the industry. It's an honor for me to be part of this team from the very beginning!"
Jose knows what it means to start a business, and understand that some people might have doubts at first instance:
"At first I had my doubts and concerns regarding the business model and I know many others have it too! " he confesses" This is a normal thing, especially when you're not educated well enough about the business model. Once I really understood how OneCoin works, all my doubts disappeared. I immediately started to understand the potential"
Gordo has become well known by his constant improvement of education. He knows the most important thing in any business is to be well informed and educated. He found the OneCoin Academy to be extremely useful for anybody who starts in OneCoin
"The academy really inspired me to get going. I have seen a great amount of people that really started flourishing when they really started educating themselves"
His motto has always been the same:
Jose "If you want to do serious business, you have to treat the business serious. Professionalism goes a long way, and really brings you to higher levels. Network Marketing is an industry where millionaires are created.
You can be one too. If anyone hopes to succeed, I am always there to help and support them. Succeeding together is the true goal for all of us"
About OneCoin
OneCoin is headquartered in Europe with worldwide operations. We focus on core markets such as South East Asian countries, Europe, India and Africa. The company is commited to growth and is opening new regional offices worldwide. The fast expansion is due to the growth of its traders and we have set the goal of creating a market with more than 1 million traders and issuing 2.1 bn OneCoins.
OneCoin is more than just a cryptocurrency. To make it successful and unique, we have created a whole concept and universe to make One a market leader in the crypto world. We offer core financial education on crypto-currency in the OneAcademy, an online exchange, and we partner with one of the hottest and newest hybrid crypto-currencies – the Aurum coin. OneCoin uses the latest cryptographic technology and security standards and has a solid marketing concept – enhanced by the OneLife Plan.
We offer a high-income opportunity with an extensive bonus program connected to the best lifestyle awards. We offer our traders a one time opportunity to profit from holding the two of the hottest and most innovative products in the emerging crypto-currency market – OneCoins and Aurum Gold Coins, an unique hybrid currency that is backed up by real and solid GOLD.