Tyra Beauty Launches Anti-Smoking Campaign
November 21, 2015
By Team Business For Home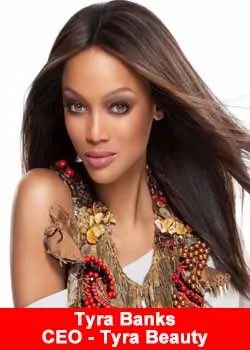 Supermodel and super-CEO Tyra Banks' new direct selling cosmetics line, TYRA Beauty, announced today it is partnering with truth®, the life-saving national youth smoking prevention campaign. The Smoke Your Eyes, Not Cigarettes collaboration with truth shapes perceptions of health and beauty with the goal of saving lives.
Tobacco is still the number one cause of preventable death in the United States. It's an issue that hits close to home for Banks; her grandmother passed away from serious complications caused by long-term tobacco use.
During my modeling career, never did I once light up a cigarette. There was enough 'smoke' around my eyes… I didn't need any in my lungs! In creating TYRA Beauty, I have built products that change the way people look and feel about themselves — by partnering with truth, I wanted to bring our two platforms together to make a clear life-saving statement: 'Smoke Your Eyes, Not Cigarettes.
Since the launch of the truth campaign in 2000, teen cigarette use has dropped from 23% to just 8%. However, while cigarette smoking has declined, tobacco use as a whole has remained steady due to emerging tobacco products like flavored cigars and hookah as well as the misperceptions surrounding social smoking. truth aims to spark conversations about tobacco. truth Finishers are making this the generation that ends tobacco use for good by creatively spreading the truth about tobacco.
Tyra is a stand out in an industry where beautiful women too often engage in the deadly addiction of smoking, said Robin Koval, CEO and President of Truth Initiative, the organization that funds and directs the truth campaign. Through TYRA Beauty, Tyra is broadcasting a powerful message about tobacco use. Her commitment and influence speaks volumes and will help us change minds about tobacco and save lives.
TYRA Beauty has launched this campaign in conjunction with the release of their newest product for the holidays — 'Smoky Smize' eye shadow palette. This palette contains four wet/dry shadows that create a variety of smoky eye looks in the most wearable shades. Plus, its unique angled 'Smoky Smize' brush allows you to see exactly where to apply your shadow in order to achieve the perfect Smize.
TYRA Beauty's direct selling force, known as Beautytainers, will do their part to spread awareness about the Smoke Your Eyes, Not Cigarettes campaign and introduce 'Smoky Smize' to customers nationwide. Now through 2016 TYRA Beauty will support truth's message through its direct sellers and social media channels.
About TYRA Beauty:
Based in Los Angeles, Ca, TYRA Beauty is a one of a kind cosmetics experience where beauty and entertainment collide. Founded October 2014, TYRA Beauty is a 100% self-funded venture created by supermodel and super business woman Tyra Banks. On a mission to disrupt tradition and transform the way the world experiences the beauty industry, TYRA Beauty puts the power of transformation into the consumer's hands with Tyra's tips, tricks and tools. TYRA Beauty is sold on Tyra.com and through Tyra's army of independent sales representatives; bonafide business people throughout the nation, which she has coined 'Beautytainers' — direct sellers running their own businesses and becoming the CEOs of their own lives.