WorldVentures Enters Zimbabwe
November 2, 2015
By Team Business For Home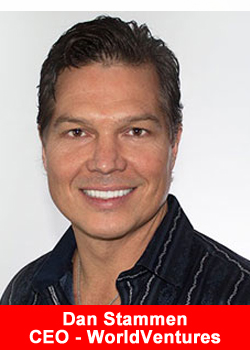 US-based network marketing company WorldVentures has entered Zimbabwe with membership now expected to be in the thousands on a rapid growth trajectory. In this interview with Zimbabwe's The Standard Business, WorldVentures country representative Colette Bowers speaks on network marketing and its prospects in Zimbabwe.
Why did WorldVentures choose Zimbabwe as a market despite the difficult economic situation?
After success in South Africa, expanding into Zimbabwe was a natural next step for WorldVentures in developing the African market for its products. WorldVentures saw Zimbabwe not only as a fantastic destination for its DreamTrips, bringing more tourists to the country, but also the possibility of enabling Zimbabweans to experience travel both in and outside the country
The country operates on an informal market and network marketing as the business model fits well with the informal market. How can people who join benefit from your model in terms of generating extra revenue?
WorldVentures enables people to earn an income as self-employed sales representatives promoting the sale of WorldVentures products. This can be on a full-time or part-time basis and can suit anyone's lifestyle. WorldVentures uses network marketing as its marketing method and under the WorldVentures compensation plan, representatives are paid commissions on their personal sales of our products, Gold and Platinum DreamTrips memberships, as well as earning commissions on the product sales their team members make. The more memberships they sell and their team, the more income they can earn.
How does the business model work?
The foundation of the WorldVentures sales strategy is network or multi-level marketing. This is a form of direct selling. WorldVentures acquires its customers through a network of independent self-employed sales representatives who are not employees and are remunerated on a commission-only basis through a multi-level marketing compensation plan. Representatives are compensated by way of commissions on the sales to customers of WorldVentures products and services. Representatives are also offered the opportunity to build a sales team by introducing other representatives and may be compensated for the sales of those representatives in their team. No compensation is given for the recruitment of other representatives. A representative enters the business by paying $99,99 and then a monthly fee of $10,99 for the Representative Business System, which is an online set of tools and a marketing website that allows representatives to administer their WorldVentures business.
WorldVentures relies on its representatives to sell products and to recruit and sponsor new representatives to sell products. While WorldVentures provides internet support, magazines, and other sales and marketing materials plus events and trainings, representatives are primarily responsible for recruiting and educating new representatives with respect to products, the compensation plan, and how to build a successful WorldVentures business. The sponsoring of new representatives creates levels in the network marketing structure. Individuals sponsored are referred to as a downline, who, if they then in turn sponsor representatives, create additional levels in the structure.
What is the kind of realistic returns those wanting to join can expect?
WorldVentures does not guarantee a sales representative will make any specific level of income. Some representatives set themselves a goal to earn an extra $200- $500 a month but the success of each representative is dependent on their skill, time invested, effort and determination.
Where does the company see itself in Zimbabwe in the short and long-term?
Both our short and long-term goals for Zimbabwe are the same as for all our markets: our primary goal is always to provide excellent products to our members featuring high-quality DreamTrips and other valuable member benefits like the concierge service and net hotel rates. We also plan to develop and extend our support for our sales representatives in Zimbabwe to enable them to promote the products and in turn to provide first-class service to their customers.
What types of membership do you offer in the country?
There is DreamTrips Gold whose enhanced product offering includes the benefits of DreamTrips, plus access to additional services and benefits. For an initial fee and then a monthly subscription fee, a member gets access to the DreamTrips.com website, as well as access to DreamTrips, weekend and week-long getaways, global hideaways, dining and entertainment deals and the DreamTrips Mall. One has access to DreamTrips exclusive deals, a travel search engine, flights, hotels, excursions, cruises, car rentals and the DreamTrips Concierge. Gold members can earn Rovia Bucks when booking travel through their DreamTrips websites.
DreamTrips Platinum is the same package as DreamTrips Gold but also includes access to luxury trips, properties and experiences. For an initial fee and then a monthly subscription fee, a member is given access to platinum DreamTrips (high-end luxury vacations), as well as access to all standard DreamTrips, and the White-Glove DreamTrips Concierge Service and other benefits.
Originally published here.