Igor Alberts And Andrea Cimbala – OneCoin Achieve $230,000 Per Month
February 8, 2016
By Team Business For Home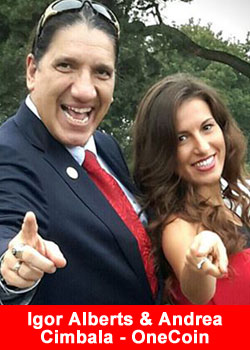 In November 2015, Igor Alberts and Andrea Cimbala archieved $95,000 per month. Last month they achieved $230,000 per month.
Igor Alberts – born in the Netherlands and his partner Andrea Cimbala have joined OneCoin and the One Dream Team late 2015 and announced Euro 89.000 ($95,000) in monthly income in November 2015.
They are part of the Steinkeller Brothers dream team.
A remarkable achievement by their fast growing team.
Andrea Cimbala stated:
'It's an amazing feeling to share our achievements with all the people in the team. Everybody supports each other. I love the fact that my saying get's proven over and over again! '

"There is no exercise better for the heart than reaching down and lifting people up."
About OnceCoin
OneCoin is headquartered in Europe with worldwide operations. We focus on core markets such as South East Asian countries, Europe, India and Africa. The company is commited to growth and is opening new regional offices worldwide. The fast expansion is due to the growth of its traders and we have set the goal of creating a market with more than 1 million traders and issuing 2.1 bn OneCoins.
OneCoin is more than just a cryptocurrency. To make it successful and unique, we have created a whole concept and universe to make One a market leader in the crypto world. We offer core financial education on crypto-currency in the OneAcademy, an online exchange, and we partner with one of the hottest and newest hybrid crypto-currencies – the Aurum coin.
OneCoin uses the latest cryptographic technology and security standards and has a solid marketing concept – enhanced by the OneLife Plan. OneCoins and Aurum Gold Coins, an unique hybrid currency that is backed up by real and solid gold.