New Avon LLC Appoints Scott White CEO
April 18, 2016
By Nicole Dunkley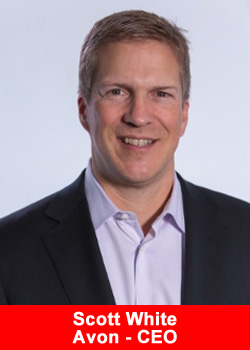 New Avon LLC today announced the appointment of J. Scott White as Chief Executive Officer. Mr. White will join the company effective April 25, 2016.
Mr. White joins New Avon following its recent separation from Avon Products, Inc. and sale of majority ownership to Cerberus Capital Management, L.P.
He will work closely with the New Avon and Cerberus teams to lead a transformation of the North American business through significant improvement in the Representative and consumer experience, reinvigoration of the iconic Avon brand, and a rigorous focus on operational excellence.
Mr. White joins New Avon from Abbott Laboratories, where he most recently served as President of Abbott Nutrition International, delivering consistent revenue growth for the company's $4 billion international nutrition business.
During his 10-year tenure at Abbott, he held a number of leadership positions, including President of Abbott Nutrition North America. Prior to joining Abbott, Mr. White spent 15 years at Procter & Gamble Company, where he managed a variety of women's and health and wellness brands.
Scott is a world-class executive whose diverse experience leading successful business turnarounds, building strong brands, setting winning strategies, and driving operational excellence provides the unique skill set required to lead New Avon on a path to long-term success, said Chan W. Galbato, Chairman of New Avon's Board of Managers.
He is the right leader to shepherd New Avon as it transforms into a growing, contemporary, best-in-class social selling company that positively impacts lives through beauty.
I am excited and humbled to be joining this iconic company and to have the opportunity to work closely with, and for, our talented and dedicated Representatives and Associates, said Mr. White.
Avon's powerful brand legacy, direct selling model, and important missions—empowering women, supporting incredible causes, such as the fights against breast cancer and domestic violence—are core tenets of this company that I am committed to building upon and strengthening.
Over the next few months, I will be meeting with many of our Representatives, listening to them and learning what New Avon and I can do to support them, improve their earnings opportunity and enhance their experience within our great Avon community.
Mr. J. Scott White is Chief Executive Officer of New Avon LLC, effective April 25. Mr. White joins New Avon from Abbott Laboratories, serving most recently as President of International Nutrition, where he led 9,000 employees across 100 countries.
During his decade-long tenure at the company, he served in several leadership roles, including President of Abbott Nutrition North America, Divisional Vice President of Latin America and Divisional Vice President of US Pediatric Nutrition. His accomplishments at Abbott include delivering consistent double-digit revenue growth for the International Nutrition business, creating a robust innovation pipeline for the North American Nutrition business and building strong sales and marketing teams.
Prior to Abbott Laboratories, Mr. White spent 15 years at Procter & Gamble, holding brand management roles, including Marketing Director of Global Hair Care, Marketing Director ofMexico and Central America and Marketing Director of Latin America Hair Care.
Mr. White holds a Master in Business Administration from the Kellogg School of Management atNorthwestern University and a Bachelor in Finance from Miami University of Ohio. He currently serves on the Business Advisory Council to the Farmer School of Business at Miami University.
About New Avon LLC
New Avon LLC is the leading social selling beauty company in North America. The company generated over $1 billion in revenues during 2015, and has nearly 400,000 independent sales Representatives in the United States, Puerto Rico and Canada. New Avon's product portfolio includes award-winning skincare, color cosmetics, fragrance and personal care products, featuring iconic brands such as Anew, Avon Color, Mark, and Skin So Soft, as well as fashion and accessories. Avon has a 130 year history of empowering women through economic opportunity, and the company also proudly supports the Avon Foundation for Women in its efforts to end breast cancer and domestic violence.