OneCoin CEO Ruja Ignatova Statement On China Rumors
April 28, 2016
By Team Business For Home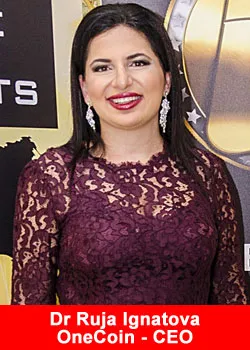 According to an anti-network marketing website a few OneCoin members in China are arrested and that website is publishing the news if the whole company is in trouble. They also mention a scheduled event in China is cancelled.
The people arrested are a few individuals who were primary in illegal fundraising and represented crypto currency somehow.
I have reached out to OneCoin CEO Ruja Ignatova and the management and they stated as follow:
Of course we know about the challenges of an economy like China.
Cryptocurrency is extremely successful as the Chinese are well known as embracing innovations. So OneCoin is pushing hard and already working on several licenses to enhance the business in China.
Dr. Ruja Ignatova and OneCoin management have invited 2,500 Chinese members to Macau on the 9th of May. This is the second largest event in Macau in less than a year and replaces the Harbin event that was planned for March.
The request to place the event in Macau instead of Harbin was requested by the Chinese members themselves.
OneCoin presents new exciting developments for 2016, where usability plays the biggest role. China has an excellent outlook for OneCoin in the coming years and stands out as the largest reserve Cryptocurrency not only in China but all over the world.
Independent Marketing Agents are responsible for presenting the OneAcademy educational products and the cryptocurrency project in a correct way. All agents sign the Terms and Conditions and lead by those rules and regulations.
OneAcademy and the educational products have recently been rolled out in Chinese language among many other languages. This is a further development for people to get first class education on trading with different asset classes among them specifically with cryptocurrency.
OneCoin drives the future of payments and is a world-wide leader in its industry and asset class with close to 2 million members all participating in mining the coin and creating supply.
About OnceCoin
OneCoin is headquartered in Europe with worldwide operations. We focus on core markets such as South East Asian countries, Europe, India and Africa. The company is committed to growth and is opening new regional offices worldwide. The fast expansion is due to the growth of its traders and we have set the goal of creating a market with more than 1 million traders and issuing 2.1 Billion OneCoins.
OneCoin is more than just a cryptocurrency. To make it successful and unique, we have created a whole concept and universe to make One a market leader in the crypto world. We offer core financial education on crypto-currency in the OneAcademy, an online exchange, and we partner with one of the hottest and newest hybrid crypto-currencies – the Aurum coin. OneCoin uses the latest cryptographic technology and security standards and has a solid marketing concept – enhanced by the OneLife Plan.
We offer a high-income opportunity with an extensive bonus program connected to the best lifestyle awards. We offer our traders a one time opportunity to profit from holding the two of the hottest and most innovative products in the emerging crypto-currency market – OneCoins and Aurum Gold Coins, an unique hybrid currency that is backed up by real and solid gold.