200,000 Reps Join OneCoin – Macau China Event Sold Out
May 17, 2016
By Team Business For Home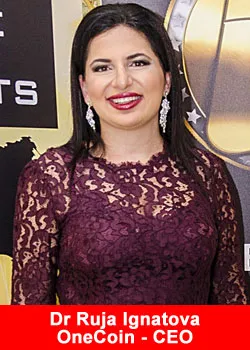 In the last couple of months more than 200,000+ new representatives joined OneCoin which brings the total base at 1.8 million distributors.
Recently OneCoin has held their China event in Macau.
The event, which took place at the Macau Fisherman's Wharf Convention and Exhibition Center, was seen as one of the most important financial conferences in the region, explaining how OneCoin intends to become the cryptocurrency in the world and what makes the OneCoin products unique on the financial market.
OneCoin CEO and Founder Ruja Ignatova made important announcements about the company, including the new One Net Upi bank cards, issued in association with UnionPay.
UnionPay cards can be used in 141 countries and regions around the world, making it the third-largest payment network by value of transactions processed, behind Visa and MasterCard.
The company gives the possibility to transfer OneCoins to other Members, and invited all of the guests to the CoinRush Global Event in London expecting 5,000 – 10,000 attendees.
OneCoin Master Distributor Sebastian Greenwood and Top Leader and $4 Million per month earner Juha Parhiala also attended the conference and gave some valuable advice on leadership and the latest updates from the OneCoin Family. At the end of the conference one lucky Member received the Grand Prize in the Lucky Draw – a brand new 100 000 EUR car.
The Lucky Draw winner was drawn from the pot by Dr. Ruja Ignatova herself, with the assistance of Sebastaian Greenwood and Juha Parhiala. He was invited on stage, where he received the amazing prize with a standing ovation from the other OneCoin Members in the packed hall.
The lucky $ 100,000 car winner in Macau
About OnceCoin
OneCoin is headquartered in Europe with worldwide operations. We focus on core markets such as South East Asian countries, Europe, India and Africa. The company is commited to growth and is opening new regional offices worldwide. The fast expansion is due to the growth of its traders and we have set the goal of creating a market with more than 1 million traders and issuing 2.1 Billion OneCoins.
OneCoin is more than just a cryptocurrency. To make it successful and unique, we have created a whole concept and universe to make One a market leader in the crypto world. We offer core financial education on crypto-currency in the OneAcademy, an online exchange, and we partner with one of the hottest and newest hybrid crypto-currencies – the Aurum coin. OneCoin uses the latest cryptographic technology and security standards and has a solid marketing concept – enhanced by the OneLife Plan.
We offer a high-income opportunity with an extensive bonus program connected to the best lifestyle awards. We offer our traders a one time opportunity to profit from holding the two of the hottest and most innovative products in the emerging crypto-currency market – OneCoins and Aurum Gold Coins, an unique hybrid currency that is backed up by real and solid gold.