Talk Fusion Releases Enhanced Fusion On The Go Mobile App
May 26, 2016
By Nicole Dunkley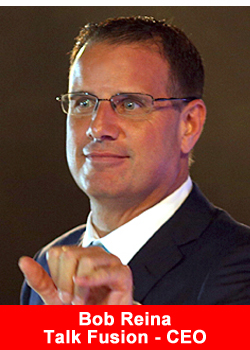 In 2016, Talk Fusion has made a trend of launching exciting new changes; from additional incentives and ways to earn to the launch of 30 day Free Trials and the full release of its award-winning Video Chat app, the global video marketing and communication leader has been very busy.
Now it has released the latest in a continuous line of enhancements: the updated Fusion on the Go app is now available in the iTunes and Google Play Stores. With its new features and functionality, the Video Email mobile app offers more ways for Talk Fusion Customers and Associates to retain their competitive edge.
As the company's flagship product, Video Email has always been known for providing a unique and innovative way for businesses to showcase their brand and communicate with contacts. With the updates and added features in the new Fusion on the Go app, users can create and send stunning Video Email messages right from their Android or Apple device—allowing them to take their marketing with them wherever they go.
From customers and vendors to team members and more, incorporating video into personalized email messages provides an incredible advantage in the marketplace and the mobility of Fusion on the Go gives Talk Fusion Customers and Associates the power to use it at a moment's notice.
Combining a sleek, streamlined design, faster speed, additional capabilities, and product enhancements, Fusion on the Go has taken its user-friendly approach and vibrant simplicity to the next level, proving that this is one app anyone can master.
"Fusion on the Go provides an incredible user experience," said Founder & CEO Bob Reina. "It makes it even easier to send beautiful Video Emails from anywhere so you're always in touch with your customers."
The process is extremely fast and simple: record or upload a video right from the mobile device, choose from hundreds of available templates, and send. Users can even change their company name display for a seamless transition between business and personal use.
While the functionality and convenience appeals to Customers, Associates have even more reasons to love this new app.
"This is such a big asset to our Associates," said VP of Training & Development Allison Roberts. "Fusion on the Go is a huge selling point; it shows Customers that they have instant access to the product whether they're in the office, at home or on the go."
Talk Fusion Associates have already recognized the value of this intuitive platform and its product enhancements.
"I love, love, love the new Fusion on the Go app!" said Associate Patti Sutherland. "So much easier… streamlined and just as clear as it can be."
Talk Fusion Associates are known for spreading the products and opportunity far and wide and Fusion on the Go enables them to continue building and expanding their businesses from anywhere.
The latest version of Fusion on the Go is compatible with iOS 7 or later iPhones, iPads, and iPod Touches and all Android devices running 4.4.3 or later. Talk Fusion Customers can download it now from the iTunes or Google Play Store.
ABOUT TALK FUSION
Home of the world's first all-in-one Video Marketing Solution, Talk Fusion is dedicated to helping businesses stand out from the competition, increase sales and profits, and keep their customers coming back. Talk Fusion offers dynamic ways to make marketing more engaging, memorable, and persuasive with video.
Talk Fusion's innovative products are marketed person-to-person by Independent Associates in more than 140 countries. 30 day Free Trials of the all-in-one Video Marketing Solution are available to anyone who wishes to try before they buy—no credit card required.
Established in 2007 by Founder & CEO Bob Reina, Talk Fusion fosters a strong commitment to Giving Back to family, friends, communities, and animal charities across the world. Learn more or sign up for a 30 day Free Trial at www.TalkFusion.com and "Like" Talk Fusion at www.facebook.com/TalkFusion.