5,000 Attendees At The OneCoin London Convention
June 13, 2016
By Team Business For Home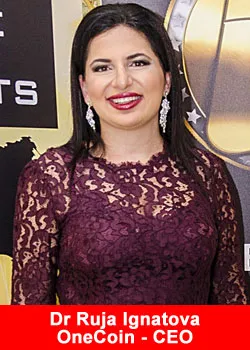 5,000 distributors and guests attended the OneCoin convention in Wembley Stadium, London, UK.
OneCoin announced to set the goal on 10 million members and 1 million merchants within the next 2 years.
Some facts and figures about OneCoin:
Ruja Ignatova (1980) is founder and CEO and resides in Sofia, Bulgaria (East Europe). IT operations are also in Bulgaria. Ruja has a background in banking and finance and created OneCoin in 2014.
Her vision is to create a global payment system.
Ruja: For years I have been working in the financial sector. My experience includes companies such as McKinsey & Company, Deutsche Bank, different asset management funds, including my own asset management company.
Network Expansion
Ruja was introduced to Juha Parhiala in 2014 and his business partner Pehr Karlsson. Juha and Pehr are presently the top producers with $4+ million earnings per month.
OneCoin Alexa Ranking June 2016
Juha had experience in Network Marketing (Organo Gold, ACN) and is living in Thailand. From there they were able to quickly spread the Network Marketing opportunity through Asia. In April 2015 Conligus merged with OneCoin and the Steinkeller brothers entered the company.
Europe is taking off with large presentations (1,000+ attendees) in the major cities, London, Paris, Amsterdam, Munchen, Oslo, Rome and numerous Direct Selling professionals jump on the opportunity.
OneCoin London Convention Wembley
USA is not open, according to Ruja: As the USA has no clear rules. As of February 2016 more than 1,4 million members joined.
Revenue
Since interception in late 2014 – early 2015 more than $1 Billion in cumulative global sales, in December 2015 alone $350 – 375 million. Last figures I have heard: about 500,000 Asian investors are buying large amounts of OneCoin's. Something similar happened with Bitcoin in 2013 – Asian money is fast.
OneCoin vs. Bitcoin
OneCoin promotors often use Bitcoin as a shining example; however there are major differences between the 2 crypto currencies. Bitcoin's block chain is an open platform, OneCoin's block chain is a closed platform. Basically Ruja Ignatova or OneCoin management controls the OneCoin block chain (The list of transactions) while in Bitcoin, transactions are permanent. New Bitcoins have to be mined with hardware – server farms, OneCoin's are mined through user accounts. It is a different approach, maybe great to have central control, maybe not, time will learn.
It means OneCoin corporate can turn back transactions in case of hacker attacks, fraud etc. Powerful, however it comes with great responsibility for OneCoin corporate.
Global Payment solution
If you create a crypto currency it is not easy to find a Global payment solution to collect and pay out to members. Banks do not like crypto currencies. Seems OneCoin has taken this hurdle and one of the banks involved in the financial transactions is the German Kreissparkasse Steinfurt which I expect has done its due diligence before they accepted OneCoin as a client 🙂 Besides the Kreissparkasse there are 18 Chinese banks, the Bank of Africa, Lloyds TSB Bank PLC, United Overseas Bank Ltd accepting payments for OneCoin packages.
The investment in OneCoin
It is free to sign up for OneCoin, upgrade packages start at Euro 100 up to Euro 18,800.
There are 2 possibilities:
If somebody has no interest in the network marketing part then it is possible to buy tokens and convert/mine them into OneCoins. You speculate then on a price rise (or drop).

You build up a group through the network marketing proposition and get 10% over the people you bring (Uni-Level), and other compensation through the binary plan.
Back office
The back office members get is impressive and has enough tools to analyze a downline and to transfer tokens into Onecoins through mining. There are smart developers involved. No standard replicated mlm software, the system seems to be build up from the ground.
Conclusion
OneCoin compensate to recruit which is outside the USA often no problem. In the USA to get paid for recruitment in a network marketing opportunity will trigger federal regulators. OneCoin is a private company and controls the blockchain. IT operations are complex.
The unpredictable growth and complexity could be a major challenge for the company. It is a high risk investment opportunity with a strong MLM compensation plan, not for the faint hearted as nobody can predict the future of any crypto currency.
It is interesting to see if OneCoin can reach the critical mass to become a – global payment solution – Ruja's vision and mission.
OneCoin Top Earners per month earnings on file:
| Nr. | Name | Est. Month | Est. Year | Company |
| --- | --- | --- | --- | --- |
| 1 | Jenna Zwagil | | | |
| 2 | Matthew Rosa | | | |
| 3 | Yager Group | | | |
| 4 | Gustavo Salinas | | | |
| 5 | Joachim Heberlein | | | |
| 6 | Rolf Kipp | | | |
| 7 | Khalid Shaath | | | |
| 8 | Jeff Roberti | | | |
| 9 | Sandro Cazzato | | | |
| 10 | Lisa Faeder Grossmann | | | |
| 11 | Ada Caballero | | | |
| 12 | Marcell Rodriguez | | | |
| 13 | Dan & Megan Valentine | | | |
| 14 | Stefania Lo Gatto & Danien Feier | | | |
| 15 | Ana Cantera | | | |
| 16 | Ed Bestoso | | | |
| 17 | Nobuhiro Kaneko | | | |
| 18 | Enrique and Graciela Varela | | | |
| 19 | Seville and Rachaell Ko | | | |
| 20 | Ryan Higgins | | | |
| 21 | Robert Hollis | | | |
| 22 | Rafael Rojas | | | |
| 23 | Calvin Becerra | | | |
| 24 | Herson Antonio La Riva Ruvolo | | | |
| 25 | Jared and Heather Burnett | | | |
| 26 | Shane & Dana Douglas | | | |
| 27 | Hayley Hobson | | | |
| 28 | Anthony Napolitano | | | |
| 29 | Christian Nuñez | | | |
| 30 | Jesse and Patricia Macpherson | | | |
| 31 | Jeff and Maureen Miller | | | |
| 32 | Steve Thompson | | | |
| 33 | Patrick and Allyse Sedivy | | | |
| 34 | Barry Chi & Holly Chen | | | |
| 35 | Sunny Hsu & Debra Hsieh | | | |
| 36 | A. Benitez & Raquel Cortez | | | |
| 37 | Nancy Dornan | | | |
| 38 | Patrick Maser & Mike Maser | | | |
| 39 | Kang Hyeon Sook & Ryu InIk | | | |
| 40 | Juan Colorado and Laura Cañaveral | | | |
| 41 | Christian Daniel Lopez Corrales | | | |
| 42 | Brittany Hitch | | | |
| 43 | John and Lori Tartol | | | |
| 44 | Susan Peterson | | | |
| 45 | Evgeniya Novikova | | | |
| 46 | Leonard & Irina Weisbein | | | |
| 47 | Francesca Fields | | | |
| 48 | Javier Garcia Herreros Cami Moreno | | | |
| 49 | John & Nadya Melton | | | |
| 50 | Tae Ho Kim | | | |
Showing 1 to 50 of 2290 entries