Herbalife Q2 Revenue Up 3% To $1.2 Billion
August 4, 2016
By Team Business For Home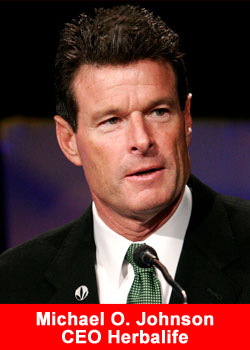 Herbalife Ltd. reported second quarter net sales of $1.2 billion, reflecting an increase of 3% compared to the prior year period. Second quarter 2016 net sales, excluding the impact of currency, grew by 10%.
On a reported basis, second quarter net loss of $22.9 million or ($0.28) per diluted share which includes the impact of $203 million related to regulatory settlements, compared to net income of $82.8 million or $0.97 per diluted share for the comparable quarter in 2015.
Adjusted1 earnings for the quarter grew 4% to $1.29 per adjusted2 diluted share, compared to $1.24 per diluted share for the second quarter in 2015.
Due to currency fluctuations, second quarter 2016 reported and adjusted1 net income were negatively impacted by $27.7 million and $26.6 million, respectively, and reported EPS and adjusted1 earnings per adjusted2 diluted share were negatively impacted by $0.32 and $0.31, respectively.
Michael O. Johnson, chairman and CEO of Herbalife, stated
This has been a historic quarter for Herbalife, with worldwide record setting volume points and new volume point highs in four out of our six regions.
Johnson continued, This momentum reflects the strength of our distributors' businesses and with the FTC settlement announcement, I am more confident than ever in Herbalife's future.
Second Quarter and 2016 Key Metrics3,4
Regional Volume Point and Average Active Sales Leader Metrics
Volume Points (Mil)

Average Active Sales Leaders

Region

2Q '16

Yr/Yr % Chg

2Q '16

Yr/Yr % Chg

North America

347.0

14%

77,596

2%

Asia Pacific

277.8

2%

73,206

-3%

EMEA

276.9

21%

80,268

13%

Mexico

242.6

10%

65,073

1%

South & Central America

160.3

-7%

54,510

-6%

China

179.7

10%

31,391

31%

Worldwide Total

1,484.3

9%

367,891

3%
Regional Net Sales and Foreign Exchange (FX) Impact
Region

Reported Net Sales

2Q '16 (mil)

Growth/Decline

including FX

Growth/Decline

excluding FX

North America

$

266.5

16

%

16

%

Asia Pacific

$

234.6

-2

%

2

%

EMEA

$

219.0

13

%

20

%

Mexico

$

119.3

-8

%

9

%

South & Central America

$

119.9

-10

%

3

%

China

$

242.5

2

%

8

%

Worldwide Total

$

1,201.8

3

%

10

%
About Herbalife Ltd.
Herbalife is a global nutrition company that has been changing people's lives with great products since 1980. Our nutrition, weight-management, energy and fitness and personal care products are available exclusively to and through dedicated Herbalife Independent Members in more than 90 countries. We are committed to fighting the worldwide problems of poor nutrition and obesity by offering high-quality products, one-on-one coaching with an Herbalife Member and a community that inspires customers to live a healthy, active life.
We support the Herbalife Family Foundation (HFF) and its Casa Herbalife programs to help bring good nutrition to children in need. We also sponsor more than 190 world-class athletes, teams and events around the globe, including Cristiano Ronaldo, the LA Galaxy and champions in many other sports.
The company has over 8,000 employees worldwide, and its shares are traded on the New York Stock Exchange (NYSE: HLF) with net sales of $4.5 billion in 2015. The Herbalife website contains a significant amount of financial and other information about the company at https://ir.Herbalife.com. The company encourages investors to visit its website from time to time, as information is updated and new information is posted. To learn more, visit Herbalife.com or IAmHerbalife.com.