OneCoin Adds Shariah Compliance
August 16, 2016
By Team Business For Home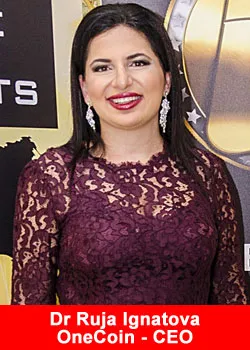 Islamic finance is one of the fastest-growing financial areas, and in order to improve its services for OneCoin users in countries with Shariah Law, the company has implemented changes to the Coinsafe option, which will now allow people from those countries to use it without overstepping the boundaries of Shariah Law.
According to Shariah Law, money is simply a medium of exchange.
Each unit is equal in value to another unit of the same denomination and you are not allowed to make a profit by exchanging cash with another person.
Therefore, the system does not allow you to benefit from lending money or receiving money from someone, i.e. receive interest.
To comply with these rules, OneCoin has made changes to its Coinsafe option, which would usually generate interest.
The IFCC (Islamic Finance and CryptoCurrency) leadership summit attracted some of the most important minds within the Islamic finance and cryptocurrency worlds.
One of the key talking points during the event was the video message by OneCoin founder and visionary Dr. Ruja Ignatova, who explained how cryptocurrency could become one of the most important payment methods in Islamic countries around the globe.
IFCC Leaders founder & coordinator of the event, Dr Zareen Roohi Ahmed explained how for decades now the Islamic financial industry had been trying to apply fiat currency to Islamic principles. She said;
The problem is that traditional currencies are born out of interest, which is forbidden in Islam and so the Islamic finance industry has been trying to find ways to purify through its Shariah complaint services.

Digital currency is interest free and it cannot be replicated or manipulated by politics or central banks.
Tehsin Aslam, CEO of Abacus Ethical Investments added;
"For the first time, the Islamic finance industry may have found a currency that is not tainted to begin with. That's hugely exciting and is the reason why I sponsored this event."
Participants included eminent Islamic scholars such as Mufti Abdul Qadir Barakatulla from the Al Rayan Bank who is also an economist; and Faizal Karbani, the author of 'Mastering Islamic Finance' and CEO of Simply Ethical. Other key contributors from the Islamic Finance sector included Muhammad Zubair Mughal, CEO of the Al Huda Centre of Islamic Finance & Economics, a global organisation, which supports the Islamic banking industry from their offices in the UAE, Pakistan and South Africa.
Chris Principe, Publisher of the Financial IT magazine who delivered a key note speech on cryptocurrency and its applications within Islamic Finance said;
The IFCC Leaders Event is monumental for recognizing the convergence of Islamic Finance with Cryptocurrency.
For the first time there is a Shariah compliant alternative to the traditional interest based banking system. Cryptocurrency can provide a clean, secure and auditable value of storage and payment that can be fully verified as untainted by the current money supply that runs through the interest dominated system. This is ground breaking, this is real and this is required for Muslims globally.
About OneCoin
OneCoin is a digital currency, based on cryptography and created through a process called 'mining'. Just like the serial number on a paper bill, each digital coin is unique.
Unlike money issued by governments, there is a finite number of OneCoins, ensuring they cannot be affected by inflation and are impossible to counterfeit. Because cryptocurrencies are not tied to any particular country or central bank, the value of the coin depends on factors such as useability, demand and supply.
When joining OneCoin, users become part of a global network of millions of OneCoin miners, who are able to choose among different ways to use their OneCoins. You can mine the coin and benefit from its value. You will also be able to make payments and transfer money to and from any part of the world.
OneCoin's new and unique blockchain will set a new industry standard by storing KYC information, running every minute and is tailored to customer and merchant needs. With its finite number of 120 billion coins, OneCoin will be one of the biggest reserve currencies worldwide.