Talk Fusion To Release New Business-Building Apps
August 12, 2016
By Nicole Dunkley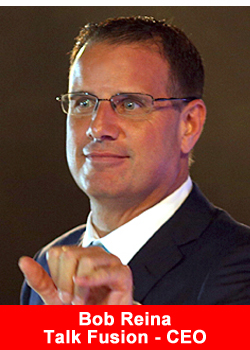 Talk Fusion prepares to release two new apps that will once again showcase its proprietary patent-pending technology and reinforce its commitment to Associates and Customers everywhere.
"Our IT team is incredible," said Founder & CEO Bob Reina. "They're constantly finding new ways to push the limits of our technology and improve the way Associates and Customers use our products to build their businesses."
One such resource is the upcoming Talk Fusion Desktop Application which will provide one-click access to the world of Talk Fusion. With its all-inclusive Live Meetings scheduler and quick links to award-winning products, self-replicated marketing sites, corporate and team communications, and more, the Desktop App offers Associates a streamlined way to grow and manage their businesses.
They can even receive real-time commission notifications every time they earn through Talk Fusion's exclusive Instant Pay. Through the Desktop App, Associates will be able to spend less time visiting different sites and more time building, teaching, and encouraging their teams.
The Customer version will provide the same all-in-one access to Talk Fusion's products. The app allows users to share their desktops with broadcast attendees and record meetings for future playback.
Additionally, the soon-to-be released Live Meetings mobile app will let guests attend video conferences on their smartphones or tablets. While Talk Fusion has long boasted Live Meetings' simple no sign-up, no registration login process, the global leader is making it even easier for Customers to connect with their networks and for Associates to share the life-changing business opportunity.
From watching whiteboard drawings come to life to viewing slide presentations and more, this app offers a wide range of features for busy attendees on the go. It will soon join Video Chat and Fusion on the Go in the iTunes and Google Play stores.
Also in the works are exciting enhancements to WebRTC Product of the Year award winner Video Chat. Hailed for its innovative technology and crystal clear quality, Talk Fusion is taking this app to the next level by bridging the gap between video calling and social networking. With the highly anticipated addition of group messaging, Associates will be able to communicate with Leaders and team members all over the world quickly and easily—all from one place.
"Our business really is global," said VP of Training & Development Allison Roberts. "We have Associates in more than 140 countries who love to talk, stay engaged, and encourage each other and this is the perfect way for them to do that."
These upcoming releases will provide Associates with even more ways to share Talk Fusion's unmatched business opportunity and cutting-edge products from anywhere. Customers will love the streamlined experiences they'll enjoy whether they're at the office or on the move.
Whether it's inspiring Associates through standing-room only events and motivating them with unbelievable incentives or providing Customers with business-building tips and marketing resources, Talk Fusion goes the extra mile to help both Associates and Customers reach their goals and change their lives.
ABOUT TALK FUSION
Home of the world's first all-in-one Video Marketing Solution, Talk Fusion is dedicated to helping businesses stand out from the competition, increase sales and profits, and keep their customers coming back. Talk Fusion offers dynamic ways to make marketing more engaging, memorable, and persuasive with video.
Talk Fusion's innovative products are marketed person-to-person by Independent Associates in more than 140 countries. 30 day Free Trials of the all-in-one Video Marketing Solution are available to anyone who wishes to try before they buy—no credit card required—at www.JoinTalkFusion.com.
Established in 2007 by Founder & CEO Bob Reina, Talk Fusion fosters a strong commitment to Giving Back to family, friends, communities, and animal charities across the world. Learn more at www.TalkFusion.com and "Like" Talk Fusion at www.facebook.com/TalkFusion.
DISCLAIMER
The incomes and lifestyles depicted in this article are not representative of the results achieved by most Talk Fusion Independent Associates. Talk Fusion does not guarantee your financial success. For actual results achieved by all Talk Fusion Independent Associates, see Talk Fusion's Income Disclosure Statement at www.talkfusion.com.