10,000+ Attendees At OneCoin – OneLife Network Convention in Bangkok
September 22, 2016
By Team Business For Home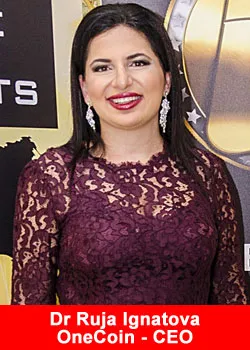 It seems cryptocurrency OneCoin – OneLife Network is growing faster then ever, a growing number of leading network marketing professionals are joining the opportunity.
More than 10,000+ people will attend the sold out OneLife Network Mastermind convention in Bangkok, Thailand.
This event will feature company updates, training, performed by some of the top network leaders, OneLife executives and market leaders and key speakers who will provide market insights and leadership advice for all guests.
As of September 2016 more than 2,3 million members have sign up with OneLife Network. OneCoin was officially separated from its marketing network, which is rebranded as OneLife Network (OLN)
OneLife.eu is the online hub for the network of over 2,3 million OneCoin users. The OneLife Network website provides information about new products, such as the first physical OneCoin product – the OneTablet, which was also unveiled at the global event.
OneAcademy.eu is the new website for OneCoin's a suite of innovative cryptocurrency educational materials. The 6-training courses are newly-remodeled to reflect the latest financial trends, and some of the most successful international business experts demystify cryptocurrency by providing OneAcademy students with illuminating lessons.
"We built a billion-euro company that is present in over 190 countries and 6 continents, and we're showing the world we are much more than just a cryptocurrency", said OneCoin founder and visionary Dr. Ruja Ignatova.
"We are extremely proud of our new developments and will continue to innovate, improve and excel".
OneCoin Top Earners per month earnings on file:
| Nr. | Name | Est. Month | Est. Year | Company |
| --- | --- | --- | --- | --- |
| 1 | Jessie Lee Ward | | | |
| 2 | Viraj Patil | | | |
| 3 | Juan Fernando Franco and Ivan Martinez | | | |
| 4 | Jenna Zwagil | | | |
| 5 | Allan Badilla | | | |
| 6 | Jason Brown And Matthew Rosa | | | |
| 7 | Islam Mohamed | | | |
| 8 | Islam Wasfy | | | |
| 9 | Yager Group | | | |
| 10 | Gustavo Salinas | | | |
| 11 | Stefania Lo Gatto & Danien Feier | | | |
| 12 | Joachim Heberlein | | | |
| 13 | Rolf Kipp | | | |
| 14 | Khalid Shaath | | | |
| 15 | Jeff Roberti | | | |
| 16 | Sandro Cazzato | | | |
| 17 | Ramesh Choudhary | | | |
| 18 | Hamza Majdi & Mehdi Ben M Louka | | | |
| 19 | Lisa Faeder Grossmann | | | |
| 20 | Branden Thompson | | | |
| 21 | Juan Colorado and Laura Cañaveral | | | |
| 22 | Ada Caballero | | | |
| 23 | Marcell Rodriguez | | | |
| 24 | Nicola Smith Jackson | | | |
| 25 | Dan & Megan Valentine | | | |
| 26 | Ana Cantera | | | |
| 27 | Ed Bestoso | | | |
| 28 | Nobuhiro Kaneko | | | |
| 29 | Austin Godsey | | | |
| 30 | Enrique and Graciela Varela | | | |
| 31 | Seville and Rachaell Ko | | | |
| 32 | Ryan Higgins | | | |
| 33 | Robert Hollis | | | |
| 34 | Rafael Rojas | | | |
| 35 | Calvin Becerra | | | |
| 36 | Herson Antonio La Riva Ruvolo | | | |
| 37 | Jared and Heather Burnett | | | |
| 38 | Shane & Dana Douglas | | | |
| 39 | Hayley Hobson | | | |
| 40 | Anthony Napolitano | | | |
| 41 | Travis and Summer Flaherty | | | |
| 42 | Christian Nuñez | | | |
| 43 | Jesse and Patricia Macpherson | | | |
| 44 | Jeff and Maureen Miller | | | |
| 45 | Steve Thompson | | | |
| 46 | Patrick and Allyse Sedivy | | | |
| 47 | Barry Chi & Holly Chen | | | |
| 48 | Sunny Hsu & Debra Hsieh | | | |
| 49 | A. Benitez & Raquel Cortez | | | |
| 50 | Nancy Dornan | | | |
Showing 1 to 50 of 2408 entries