Massimo Del Moro – OneCoin Achieves $210,000 Per Month
October 14, 2016
By Team Business For Home
Massimo Del Moro, thanks to network marketing since 1990, has found his home.
Massimo was born in a small town in central Italy, and at 20 years old as a driver warehouseman started his first experience in Network Marketing.
After the first two years of great difficulty without having any significant results and with fears of being judged as not able and also hindered by friends and family, Massimo took off towards success.
in 1992 he has fired his boss and became finally free devoting himself full-time to Network Marketing reaching in 1995 the Diamond level in Amway, and traveling the world by building networks with thousands of people.
After 18 years of success Massimo leaved Amway to build, in just 18 months, a network of 17,000 subscribers in Xango reaching the Top 200k premier legend. Massimo continues his successes in 2012 when, thanks to a call made by Aron Steinkeller, he decides to follow people and not companies joining Organo Gold and reaching Emerald in 30 days.
With 25 years of experience and success in Network Marketing Massimo created a training school for Networkers, the Master in Leadership school, helping newcomers and veterans of network marketing in research, training and educate leaders in Italy and Latin America.
Thanks to narrow friendship with Aron Steinkeller and his brothers Christian and Stephan, Massimo continued to follow their footsteps and their examples starting OneCoin and realizes the Diamond qualification in a few months.
Today his earnings are higher then ever and he is in the Top 100 in the Business Home rankings.
Massimo and Aron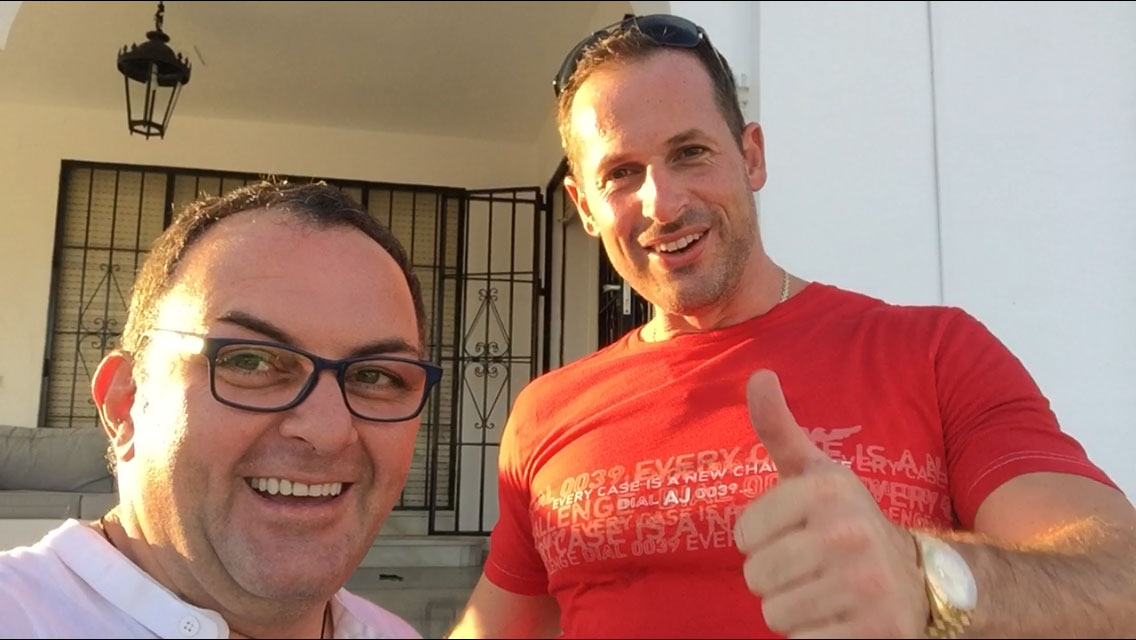 I am very grateful to the Steinkeller brothers for being always very honest and transparent to me and to Dr. Ruja for the vision and the prospects regarding the future of payments with OneCoin.
The experience gained over many years of Network Marketing, the strategies applied and the hard work of myself and many leading experts, such as Luca Brignoli, Nicola Verdi and many more new young people in this trade as Lorenzo Capriotti and successful entrepreneurs who bring into play as Ruggero Fabris, we can build a worldwide Network in a very short time.
Today with OneLife you can create a team in the whole world thanks to technology and strong international leadership of One Dream Team.
Along with many of my friends, although in cross line we are winning the largest network in the world thanks to the cooperation and mutual help of the Top Leaders like Jose Gordo, Marian Lopez de Waard, Richard Castillo we are actually building in Latin America, in all Europe and Russia with Udo Carsten Deppisch, Balázs Varga and Beata, Pascal-Rene Andre, Igor E. Alberts, Anton Federspiel.
Even in Italy, collaborating with other Diamond lines as Lulian D. Cimbala, Tommaso Zega, and Antonello Nigro of which I have a strong respect as friend and as professionist, we are revolutionizing the way people see the Network Marketing.
In the month of July 2016 we have in total more than 4 million sales but these numbers are set to grow and overcome each record thanks to more than 400 Sapphire, more than 105 Ruby, 15 Emeralds and 3 Diamonds that every day help tens of thousands of new members in creating a better future for them and their families.