Igor Alberts And Andreea Cimbala – OneCoin Achieve $1 Million Per Month
February 20, 2017
By Team Business For Home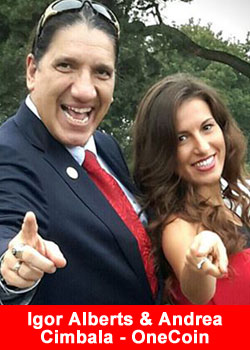 In May 2016, Igor Alberts and Andreea Cimbala archieved $450,000 in commission per month. Last month they achieved $1 Million per month.
Igor Alberts – born in the Netherlands and his partner Andreea Cimbala have joined OneCoin and the One Dream Team late 2015 and announced Euro 89.000 ($95,000) in monthly income in November 2015.
They are part of the Steinkeller Brothers dream team.
A remarkable achievement by their fast growing team.
Andrea Cimbala stated:
'It's an amazing feeling to share our achievements with all the people in the team. Everybody supports each other. I love the fact that my saying get's proven over and over again! '

"There is no exercise better for the heart than reaching down and lifting people up."
Igor says:
Normal means mostly average. Normal is boring. Normal is just doing the same every day. Getting the same results over and over. I don't want to be normal, I don't want to be mediocre, I don't want to be average, and for sure I don't want the average standard results, I didn't agree to all of that to live a life always financially running behind the facts of unpaid bills and living a stressful life facing the normal situation of the most horrible disease called Empty Pockets. Getting stress and hard brain stomach or other normal 21 century stress disease problems.
I want to excel, I want to live an incredible life, leave a mark, and make dreams come true. Do you want to be normal? Or do you want to Change and becoming the one destined to be? Becoming the Legend that lead your family into financial freedom, prosperity and happiness. When you are ready to become the one destined to be the MLM Industry is ready for you. Become the Legend your family is waiting for.
OneCoin Top Earners per month earnings:
| Nr. | Name | Est. Month | Est. Year | Company |
| --- | --- | --- | --- | --- |
| 1 | Jessie Lee Ward | | | |
| 2 | Viraj Patil | | | |
| 3 | Juan Fernando Franco and Ivan Martinez | | | |
| 4 | Jenna Zwagil | | | |
| 5 | Allan Badilla | | | |
| 6 | Jason Brown And Matthew Rosa | | | |
| 7 | Islam Mohamed | | | |
| 8 | Islam Wasfy | | | |
| 9 | Yager Group | | | |
| 10 | Gustavo Salinas | | | |
| 11 | Stefania Lo Gatto & Danien Feier | | | |
| 12 | Joachim Heberlein | | | |
| 13 | Rolf Kipp | | | |
| 14 | Khalid Shaath | | | |
| 15 | Jeff Roberti | | | |
| 16 | Sandro Cazzato | | | |
| 17 | Ramesh Choudhary | | | |
| 18 | Hamza Majdi & Mehdi Ben M Louka | | | |
| 19 | Lisa Faeder Grossmann | | | |
| 20 | Branden Thompson | | | |
| 21 | Juan Colorado and Laura Cañaveral | | | |
| 22 | Ada Caballero | | | |
| 23 | Marcell Rodriguez | | | |
| 24 | Nicola Smith Jackson | | | |
| 25 | Dan & Megan Valentine | | | |
| 26 | Ana Cantera | | | |
| 27 | Ed Bestoso | | | |
| 28 | Nobuhiro Kaneko | | | |
| 29 | Austin Godsey | | | |
| 30 | Enrique and Graciela Varela | | | |
| 31 | Seville and Rachaell Ko | | | |
| 32 | Ryan Higgins | | | |
| 33 | Robert Hollis | | | |
| 34 | Rafael Rojas | | | |
| 35 | Calvin Becerra | | | |
| 36 | Herson Antonio La Riva Ruvolo | | | |
| 37 | Jared and Heather Burnett | | | |
| 38 | Shane & Dana Douglas | | | |
| 39 | Hayley Hobson | | | |
| 40 | Anthony Napolitano | | | |
| 41 | Travis and Summer Flaherty | | | |
| 42 | Christian Nuñez | | | |
| 43 | Jesse and Patricia Macpherson | | | |
| 44 | Jeff and Maureen Miller | | | |
| 45 | Steve Thompson | | | |
| 46 | Patrick and Allyse Sedivy | | | |
| 47 | Barry Chi & Holly Chen | | | |
| 48 | Sunny Hsu & Debra Hsieh | | | |
| 49 | A. Benitez & Raquel Cortez | | | |
| 50 | Nancy Dornan | | | |
Showing 1 to 50 of 2406 entries
About OneCoin – OneLife
The OneLife Network is a network marketing company, an exclusive membership club dedicated to financial education and providing a work-from-home opportunity to its members. The OneLife Network is constantly growing its portfolio of products and services and expanding outside education in order to provide new opportunities to its members. The OneLife Network is part of the OneCoin ecosystem and allows its members to mine and trade with OneCoin. For more information, please visit www.onelife.eu