OneCoin Dealshaker Merchant Exhibition In Romania Visited By Thousands
June 12, 2017
By Team Business For Home
Last week, the first business fair for merchants oriented to alternative methods of payment was held in Romania. Specifically, this was an exhibition involving merchants registered on the online trading platform DealShaker.
The DealShaker is an e-commerce platform that supports payments in OneCoins, which also was the preferred payment method for sales at this particular fair organized by OneLife Blue Diamonds Cristi Calina and Marian Grigore.
During the weekend of 2 to 4 June, products that ranged from cosmetics, food, fashion, jewellery, art and some services could be purchased paying half or full of its price in OneCoins. Services, such as limousine rentals or dental hygiene sessions, spread over more than 150 stands throughout the RomExpo in Bucharest.
Thousands of people visited the RomExpo during the three days of the exhibition and bought all types of products. The sales turnover exceeded the equivalent value of more than one million euros.
It is also worth mentioning that over the last week, the DealShaker platform has experienced a significant increase of new registered merchants and new offers published after the success of the 3 Day Kickstart Marathon.
Many merchants present at the fair agreed on how this three-day event helped both promote their own products and popularize the type of commerce and the alternative payment method. Although the products are not usually physical, the payment is also made and approved digitally, with just a few touches on the screen of your mobile.
The national and local media, up to more than 30, had been echoing this event starting days before it and many covered the fair, both in the press and on television, due to the unusual nature of a fair, where most of the money is produced online, but that comes to create a trend that will soon be repeated either in Bucharest or elsewhere in the world.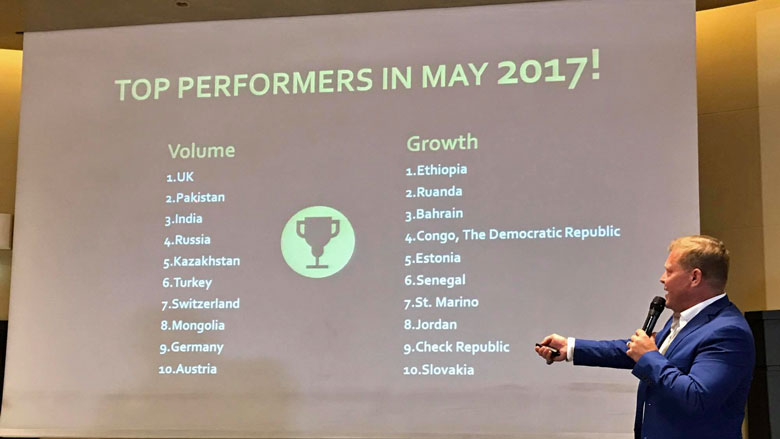 In addition, it should be noted that among the merchants and participants, there were not only representatives of the DealShaker community in Rumania, but also business people of more than 35 different nationalities. Speaking of the visitors, it's difficult to know exactly, but many members of the community of users of the OneCoin cryptocurrency from other countries wanted to attend this first of its kind fair. Led by the current CEO of OneCoin cryptocurrency company, Pierre Arens.
Other well-known members of the OneLife and OneCoin community who have been visiting and buying at the stands were the Crown Diamond Simon Le, the Australian Blue Diamonds Steve Condos and Filomena Mazzaferro, the Australian-Vietnamese Blue Diamond Thanh Duong, the world leaders Yasir Mirza and Maximilian Messner, the italian Diamond Ilenia Turelli and her team-mates Tsoni Goranov, Ivan Tzvetkov and Luca Miatton.
Black Diamonds Igor E. Alberts and Andreea Cimbala, both ranked number 2 in the Top Earners rating on Business For Home, as well as the OneLife European Ambassador Kari Wahlroos who, in addition to visiting the site, exposed some information on the main stage.
About OneCoin – OneLife
The OneLife Network is a network marketing company, an exclusive membership club dedicated to financial education and providing a work-from-home opportunity to its members. The OneLife Network is constantly growing its portfolio of products and services and expanding outside education in order to provide new opportunities to its members. The OneLife Network is part of the OneCoin ecosystem and allows its members to mine and trade with OneCoin. For more information, please visit www.onelife.eu