Ilenia Turelli From Italy Achieves Diamond Rank At OneLife
September 26, 2017
By Team Business For Home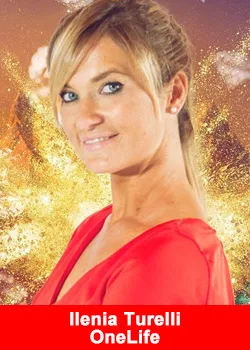 Ilenia Turelli is, above all, a businesswoman. This is how she defines herself, a businesswoman. It is what she has become, better said, what she has "built" out of herself.
Ilenia lives in Italy and is part of a global team that has achieved great success, SUCCESS4ALL, founded and led by the current number one couple in the industry's Top Earners ranking, Igor E. Alberts and Andreea Cimbala.
Ilenia, in turn, has her own team of leaders coming from all over Europe. Her story goes to show that for many people, network marketing is, above all, a way to carry out projects that might not be possible otherwise.
After ten years working as a hairdresser and with a dream of opening her own beauty salon, Ilenia learned about network marketing, which helped her create her own fashion brand. But this industry hadn't been for her just a useful tool to achieve a goal and move on. Ilenia is still an active networker with a burning passion for the industry and its way of working.
"My favourite thing about network marketing is the challenges it represents, getting bigger goals and sharing them with the team."
A challenge enthusiast, Ilenia is one of those people who receive everything new with a smile. She admits that "fear is the biggest boost for success. Are you afraid of something? Just do it! Only this way you can overcome fear".
The first company Ilenia worked for was 'Organo Gold', which she keeps good memories of and calls "a beautiful gym to learn a job." Next great experience would be OneLife.
While many OneLife leaders admit not to understand the idea of the project and its importance at the beginning, Ilenia didn't need but two things to take the step: her self-confidence and passion for new technologies, on the one hand, and the example of other leaders already working for the company, on the other.
"At first, I was attracted by some leaders:  Igor, Andreea and Iulian. I knew that working with them would give me discipline, and I would have to make an effort. And then I found out that the company was really powerful. I saw the lives of other leaders transformed, and then I asked: what are you doing? I want to do that too!"
In other words, it was Ilenia herself who went in search of the opportunity. And, as she aspired from the beginning, her life changed. Now, Ilenia is the leader who teaches discipline and makes changes in others.
"My team is my pride. I saw people starting from scratch with me and becoming big leaders. This is a company where you see 'field' leadership, and I have real warriors."
The truth is that Ilenia got fully committed to the OneLife concept, and not only that: in addition to distributing the products and tools the company offers, she makes use of them herself.
"God bless new technologies! Oh, I love the DealShaker platform! I use it very often, and my shop is waiting to be confirmed now. Soon you will find my fashion brand available to the entire user community."
A leader, a brand owner… What is Ilenia's ambition for the future? It is simple, but not therefore less inspiring: "I am a woman and I want other women like me to fulfil their dreams. I want my team to grow bigger. I want to have children and I want them to have the best life possible."