Ivan and Michelle Mark From Trinidad And Tobago Achieve Diamond Rank At OneLife
December 27, 2017
By Team Business For Home
This couple resides in the Caribbean –  Trinidad and Tobago. They are part of the OneLife's extensive and successful Success4All team and also represent the momentum both of the opportunity and the team in the Caribbean.
Although these two leaders have a short experience in the network marketing business, both come from the world of finance and have connected immediately with the vision of the company.
The success story of Ivan and Michelle Mark doesn't begin the day they decided to join the network marketing industry, but the day when destiny led them to meet each other. Special thanks to Michelle's aunt, who knew that together, these two people would make up a perfect team, so she arranged a meeting where any doubt would be dispelled.
Curiously enough, that day when the Ivan and Michelle found each other by coincidence was when Jamaat al Muslimeen attempted a coup d'etat. If there exists any kind of luck or destiny, we can say that the couple were particularly lucky as the place where Ivan worked at that time was partially destroyed by a bomb.It is a story that they will surely tell their children and grandchildren: how chance or destiny saved their lives, brought them together and let them become not only a couple, but best friends and perfect business partners.
Four years later, Ivan and Michelle would start in network marketing, but without much success at the beginning. But perhaps at that time, none of them was ready for it yet, so they didn't go on any further with the idea, at least for a few years. After all, both had stable jobs in the financial sector that gave them peace of mind. Until it all ended.
In 2009, Ivan lost his job and embarked on the quest for something better. This is how he got back to network marketing.
"In 2013, a client of mine introduced us to Organo Gold. We really liked this company, and Michelle understood the system from the very first presentation. Since I was not working at the time, we decided to take the leap together.
We began doing presentations on our own and built a team after a couple of months.  It was difficult to keep the momentum going, because very few of us did presentations. The entire Trinidad and Tobago team was not following the system, and this caused the momentum to be lost. By the time the leaders figured it out, too many members had given up.
At that time, I realized the importance of good leadership skills."
Despite that experience, network marketing and its culture of personal development had penetrated deep into these leaders, which created the right attitude of not letting some failures mark the path. Ivan and Michelle both knew that there was something to learn, and they did.
"I learned early in my career that leadership skills are key to making things work, regardless of the company, product or service." says Ivan.
So, both kept on despite everything, working on their leadership and skills for presentations. Ivan's determination to build a solid career in this industry played a significant role in this process, the reason for the couple to prosper: the only option was to keep looking forward and not go back to an increasingly hopeless job market.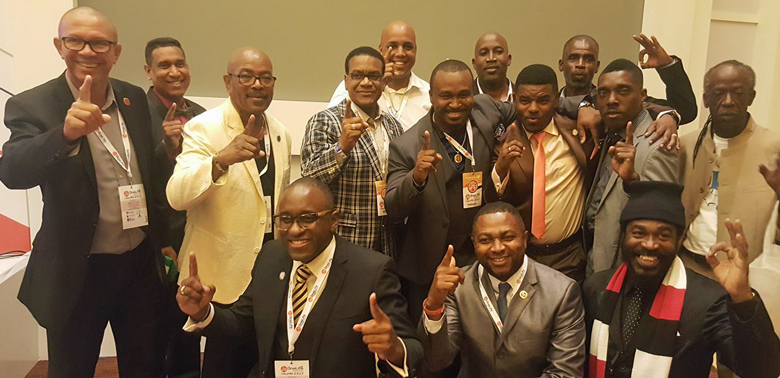 Another important thing in the success of Ivan and Michelle was to find the right system, the right mentorship and the right opportunity.
"I learned about OneCoin, and its name just resonated in me. I just couldn't get it out of my mind. This was in April 2016. I actually called Mr. Chester to ask him about it, because we were doing a project together. At that time though, his focus was somewhere else, so he didn't pursue it.
Over the following 2-3 months, I kept doing further research on the company, looking at all the negative information online, as well as reading Dr. Ruja's articles about the company and her vision for the future.
No matter how much negativity I found, to me it didn't make any sense. It just didn't feel like the truth, because no matter what they said, I kept seeing the company growing at a phenomenal rate. I believe, no company running a scam would allow you to have free access to its system".
They were considering the possibility of subscribing to the system, and it was when they saw on Facebook that Anderson Chester was in London at a company event. It was the CoinRush of June 2016. So their first reaction was to contact Anderson Chester as soon as possible and to hear his opinion about the company. When they managed to do so, they arranged a meeting in Curacao, where Chester would be accompanied by Top Leaders of the company.
"So we left everything and went to Curacao with him. There, we met Mr. Alberts and his wife Andreea Cimbala. Together with Mr. Louis Gaines, we were the first set from Trinidad to meet Mr. Alberts and Andreea.
What convinced me most about OneLife, was the strength of their leadership. Mr. Alberts told us a story of a promise made to his father when he was a boy, and he kept that promise. His father was there and acknowledged that. That is when I knew this was the right opportunity for us.
That event was great, and once we came back to Trinidad, Anderson and I started to build a team right away."
Ivan and Michelle have been personally mentored by Igor and Andreea, which helped them find their strongest points, especially in building their relationships with the rest of the team.
Barely a year and a half after Ivan and Michelle Mark had met, they managed to build a career they had been looking for, employing a network marketing system that works in Trinidad and Tobago, and that is now creating a considerable impact. The couple has also achieved the Diamond rank in the company.
And the most important thing is that they are able to dream again, after seven less fortunate years that had almost stole their hopes. Almost: because they have never given up.
"In all, we would like to thank God for allowing us to come across this opportunity.  We thank Mr. Anderson Chester for choosing us and believing we can deliver.
We thank our Black Diamonds Mr. Igor Alberts and Andreea Cimbala for choosing Mr. Anderson Chester, as it meant they chose us too.  The support and training given by them are unbelievable.
We also thank the entire team, as this rank means we all made it. We say "Together for more", and this is our mantra too!"