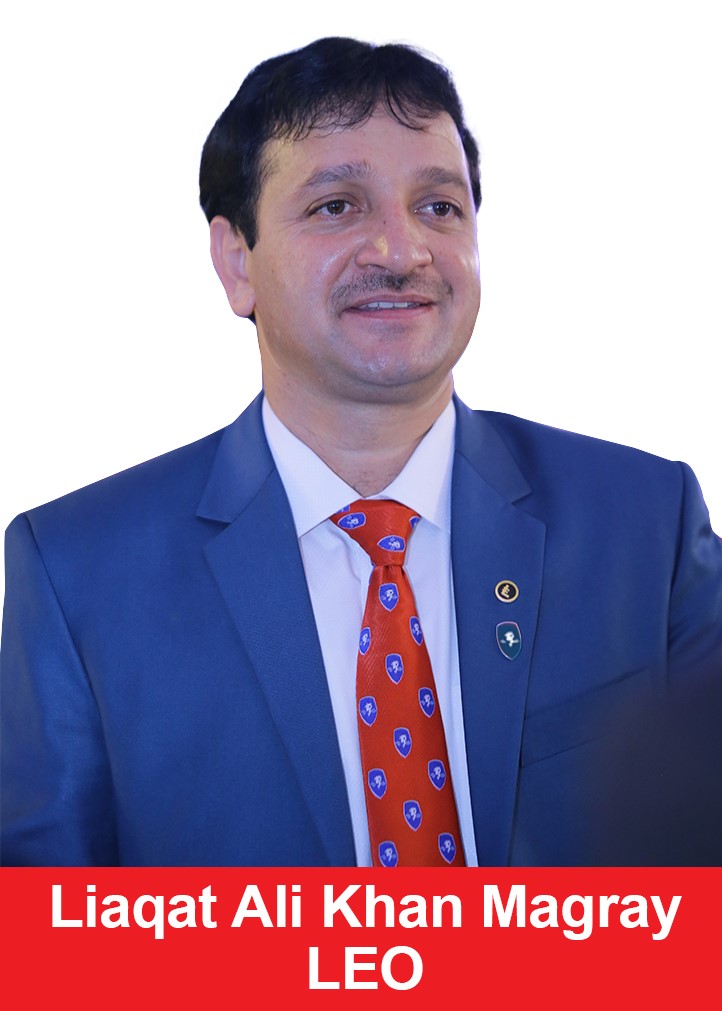 Liaqat Ali Khan Magray – A LEO Tour de Force From Pakistan
December 5, 2017
Having just celebrated his fifth anniversary of joining Learning Enterprises Organisation Ltd (LEO), a global entrepreneurship training company, Liaqat Ali Khan Magray is still going strong.
Now a pillar of the LEO community, his commitment and hard work is legendary, leading him to achieve the impressive heights of Regional Marketing Director rank. While some might freewheel on a reputation like this, Liaqat has no intention of taking a back seat, but continues to be an inspirational LEO tour de force.
Located in Pakistan, Liaqat left behind his job as a bank officer in 2012 to join LEO, and the rest, as they say, is history. For Liaqat has truly found his vocation, excelling at all he does with LEO and leading his global team to serious success. So, to find out more about this direct selling star, Ted Nuyten asked him some searching questions:
You have achieved so much in the five years since joining LEO – what would you say is the secret to this sky-high success?
Good question! I have worked very hard in my LEO business, to make it a success story for everyone who has come with me on this journey, and LEO has delivered what it said it would from the first day. I have been working in the direct selling industry for the last 18 years, and my secret for success is truth – I have never lied to anyone about business. Secondly, 'duplication' is vital – whenever I learn something new, I share it with my team and teach them to share it with their teams. I have achieved so much with LEO and most of my targets have already been reached. Now my passion is to make my team successful. I want to see them reach the place where I am now, so that they can achieve the targets which they had in mind when they first started with LEO.
What led you to join LEO and what do you like most about the company?
When I joined LEO, my passion was for education and training and this is what LEO's core products are all about. However, there are many things I like about LEO, especially the way it always launches such market-leading, modern products – e-learning, digital currency, crowdfunding and now its new Digital Market Service. I always love to learn new things and LEO has provided a platform where I can do this. The most important thing for me is that LEO always delivers whatever it commits to, and never loses sight of its mission statement that Members are at the heart of the LEO business. In addition, LEO's compensation plan is the best ever. For the first time in the history of direct selling, LEO gives a reverse matching bonus, through which a member can earn a bonus from their upline. This is a great way to compensate members who are working hard.
What spurs you on to succeed in your LEO business?
The commitment and dedication of our CEO, Dan Andersson, has always given me strength. I also love the LEO Corporate team who put all their effort into making every project great. There have been many ups and down over the past 5 years' journey but we have never given up and have moved forward with the same momentum. We will win together because our vision is clear and we know where we are going – having a clear goal in mind will make us successful. With the innovative products LEO has, I see a bright future for the company. I also love learning about new things and new technology, because we are in the 21st century and things are moving like a rocket – anyone who wants to succeed needs to know about the modern way of doing business, and learning plays an important part in this.
You have clearly worked very hard to achieve such success – how does this fit in with your family life?
Success is not that easy, you have to sacrifice many things and it can have an impact on family life. Because of business meetings and commitments, I have not always been able to spend as much time as I would like with my family, but most of the time they give me strength by organising plans to fit in with my schedule. This makes it easier for me to spend time with them and develop my business.
What top tips would you give to others who might want to start their own direct selling business?
First, and foremost, always speak the truth, tell it like it is and don't hide anything. Also, help to make others successful, and you will automatically be successful yourself – that's the beauty of this business. Finally, trust yourself – you can achieve anything you want to, just never give up!
 About LEO:

Learning Enterprises Organisation Ltd (LEO) is a global entrepreneurship training company which uses personal recommendation to introduce Members to its products and services. Established in 2012, LEO now has over 250,000 Members in more than 140 countries.
LEO has a unique programme which helps people to LEARN, with the training products it provides, EARN at the same time, by marketing these products, and also has a selection of ownership award programmes that help Members achieve their dream to OWN a successful business. LEO provides full training and support for all its new Members, including a helpful 'Getting Started Guide', which contains an invaluable system to follow to get their businesses off to the best start, referred to as the #LEOSYSTEM.
LEO's core products are designed to help people start their own business – eLearning, Live Seminars and Technology. LEO believes that everything is moving to the mobile platform. In response, LEO has developed apps that replicate its Member Back Office system and Marketing collateral support. However, the LEO Ecosystem does not stop there, as it also includes a digital currency, LEOcoin, and a crowdfunding platform, LEOcrowd.
Want to read the 1 reviews on LEO? Click here for LEO Review!