OneCoin Out Of Control – Ruja Ignatova Disappeared
January 11, 2018
By Team Business For Home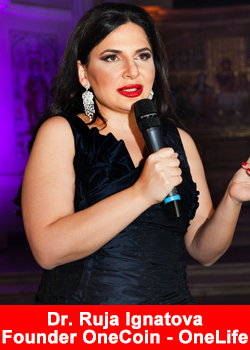 Friends, intimi, top distributors as corporate employees have not seen or heard about OneCoin – OneLife founder Dr.Ruja Ignatova since October 9 of last year.
Ruja Ignatova is the heart and soul of OneCoin – OneLife and has total control of the corporate operations.
As a direct result of the disappearance, the majority of active Top Leaders have recently left, disappointed, the company, pursuing other opportunities, as a ship without captain is unacceptable in Network Marketing.
As a result of the collapse of the network marketing arm of Onecoin – the Onelife network – we have decide to remove the top earners from the Business For Home ranks. 
About Ruja Ignatova
Born in Sofia, Bulgaria, Rja Ignatova grew up in Bulgaria until age 10, when she moved to Germany. For a young, hard-working female foreigner, the transition was not easy, and Dr. Ignatova had to learn a new language and begin proving herself.
She lived Germany as both a student and then as a businesswoman and developed her entrepreneurial spirit there. She received a Ph.D. in Law from the University of Konstanz, a degree in Law from the University of Oxford (M.Jur) and a Masters Degree in Law from the University of Konstanz and Economics from the University of Hagen.
Prior to founding OneCoin, Dr. Ignatova was an Associate Partner at McKinsey & Company and led one of the largest asset management funds in Bulgaria, CSIF, where she managed more than €250 million.
Dr. Ignatova was named Businesswoman of the Year' in Bulgaria in 2014 and International Businesswoman of the Year' in 2012.
Comments are closed due to the large number of spam and hate comments.