OneCoin $8 Billion In Combined Sales And Still In Business
March 9, 2018
By Team Business For Home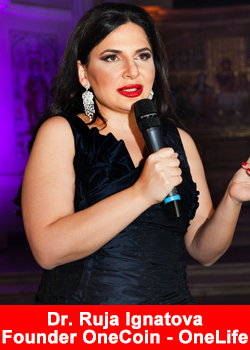 Disclaimer: This article should not be taken as, and is not intended to provide, investment advice. Please conduct your own thorough research before investing in any opportunity.
In January 2018 the Bulgarias Special Prosecutors Office raided the head office of OneCoin and OneLife in Bulgaria and seized several computers. The company has done an estimated $8 Billion in revenue since the start.
According to the brother of Ruja Ignatova founder and CEO,  Konstantin Ignatov who is now in charge of the daily operations, all equipment seized is giving back and no arrests were made. Both websites www.onecoin.eu and www.onelife.eu are operational.
Ruja Ignatova is well, however got death threats and therefore will not be seen in public.
The next communication OneCoin send to their members, most likely with the involvement of consultant Frank Ricketts:
"OneLife Office Raided and Computers Seized"
Those two words, "raided" and "seized," they sure cause some goose bumps to occur and make you wonder what is going on and it is not on the positive side of life. Of course these words were used by websites like CoinDesk and CoinTelegraph, which are both biased websites and cannot be trusted as truthful since people pay them to post articles on their websites.
The haters continue to go on and on but you will like the video below. I also want to comment that I recently was with a nationwide panelist at different cryptocurrency events and he stated that he liked the OneCoin model and that if he was going to make decisions in that model he would have done it the same way.
Having years of experience now in crypto and seeing the good, bad and the ugly he said they reason why there was so much negativity against OneCoin is because people are scared. They did what no other coin has done.
The Truth Behind the "Raid"
When you peel it all back what you will learn is that there was an affiliate that was of very questionable integrity, ethics and morals and he was operating as an ambassador for the company.
Eventually, after warning him repeatedly, the company let him go and terminated his position. He went on the offense and started lots of rumors and trouble. Sounds bad but ended up being a huge win for the company.
Even the Business For Home website started to attack OneLife after years of support but we also found out that this company was owned by another leader from OneLife
(Ted: B.S. the Business For Home website is 100% owned by me and my wife we do not support, we report facts)
that decided to join the apostate and start their own coin. Crazy story…
Anyway, the Bulgarian police did go to the home office and ask for the computers so they could audit the company, which they did and after 3 or 4 weeks they announced they found no fraud or illegal activity on the part of OneLife.
Commissions had not been paid while the computers were in their possession but have now been all caught up. Coins that were in CoinSafe that were not showing are now showing again. This has turned out to be an event that all the haters cannot controvert. Incredible.
Ruja's Brother Shares The Story In Columbia
You can watch the entire video but this link will put you at the point in which he begins to speak about the situation with Germany and Bulgaria.