Igor Alberts & Andreea Cimbala Achieve $825,000 Per Month With Dagcoin
July 14, 2018
By Team Business For Home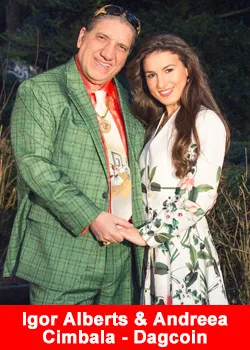 Igor and Andreea started in December 2017 with their team with crypto currency Dagcoin.
Igor Alberts started his network marketing career 30 years ago at the mother of all networks: Amway. He was not an overnight success in MLM, in his first 5 '" 10 years he hardly made money. He did not give up.
In the last 10 years he moved fast up the ranks in different opportunities and his present opportunity is again a major win.
Igor Alberts '" is born in the Netherlands, his business partner Andreea Cimbala is from Italy.
Igor stated before:
Normal means mostly average. Normal is boring. Normal is just doing the same every day. Getting the same results over and over.

I dont want to be normal, I dont want to be mediocre.
I dont want to be average, and for sure I dont want the average standard results, I didnt agree to all of that to live a life always financially running behind the facts of unpaid bills and living a stressful life facing the normal situation of the most horrible disease called Empty Pockets.
Getting stress and hard brain stomach or other normal 21 century stress disease problems.
When you are ready to become the one destined to be the Direct Sales Industry is ready for you. Become the Legend your family is waiting for.
About Dagcoin
We are a growing and ambitious team based in Estonia, and our goal is to provide a new alternative currency for everyday use '" to create a common currency.
Our team is doing it by making cryptocurrency payments lightning fast, keeping the transaction fees unnoticeably low and creating a system as easy-to-use as possible.
When we talk about IT development, then this is a continuous never ending process because we live in the era of technology and there are so many bright minds in the world who come up with brilliant ideas all the time. We aim to implement as many of them as possible in our system. For more information please visit www.dagcoin.org