Igor Alberts And Andreea Cimbala Achieve $1 Million Per Month With Dagcoin
August 31, 2018
By Team Business For Home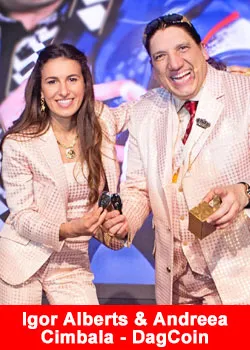 Igor E. Alberts and Andreea Cimbala, achieve the number 1 position in the industry for the second time with $1,000,000 a month in Success Factory – Dagcoin.*
Igor E. Alberts, from the Netherlands, is a veteran of the network marketing industry with more than 30 years of experience. His wife and partner, Andreea Cimbala, with 5 years of experience, became the first woman in the industry to achieve such commission.
They already got the first position in the ranking last year, for the first time. The couple remained at the top for months until they decided to change their plans, the company and to start over.
On that change, Igor declared:
"We were not looking for a new opportunity, but at that moment, when we were losing hope and faith for what we were doing, the opportunity appeared and brought us a new energy.
A new reason to keep working. And we didn't take it in order to earn more; in fact, in the first few months, we invested a lot of money from our own savings to help many people who had been part of SUCCESS4ALL at one level or another, to take the step. We were so excited and so convinced with this new project that we wanted to make it easier for all those who wanted to continue working with us, so that they wouldn't have to start from scratch.
And now, that dream of ours, the relations we have created and the risks we took are paying off for all of us."
It's been just over eight months since Igor and Andreea announced that they were starting to collaborate with the Dagcoin company. Today, Dagcoin is part of the service ecosystem that encompasses the network marketing company Success Factory and where you can also find Skillex, an educational and personal development platform that is divided into different areas of interest for everyone. All these associated companies are perfectly aligned, according to Igor and Andreea, in the spirit of Success4All.
Andreea Cimbala clarifies this part:
"Success Factory has tools that connect you to the world and to your heart and help you get the best out of you. I think it's the best company we could find to really create power, increase it and distribute that power among people.
Here, network marketing is more than just a business, it's an instrument to empower people, and that is exactly what Success4All is all about."
As for their recent success as networkers and as leaders and founders of a team already famous worldwide, Igor and Andreea tell us that there is really nothing new they can highlight.
"We follow our training methodology, which we know that works." – says Igor – "We continue to celebrate small achievements and great successes with our team. We keep in touch with the people we care about. But yes, we have taken a couple of risks here and there, and we passionately fell in love with a project that was just a small spark, and we put all our energy into that spark to see it turned into a real flame."
As the couple says, it was only a matter of time before they would return to occupy the first position in the ranking. And, certainly, there is no arrogance in that statement, but the tranquility of those who have created, tested and polished a system that works. They are particularly proud of their training and invest countless hours, on a regular basis, in the development of their team members.
"You need a good system, but you also need to be in the right place, with the right people and at the right time."
– Andreea adds – "And all this was possible thanks to Nils Grossberg, Kris Ress, Kristjan Raude and Kari Wahlroos, the people who created it and explained the whole process from the very foundations."
*Disclaimer: This is not an investment advice.
About Dagcoin
We are a growing and ambitious team based in Estonia, and our goal is to provide a new alternative currency for everyday use '" to create a common currency.
Our team is doing it by making cryptocurrency payments lightning fast, keeping the transaction fees unnoticeably low and creating a system as easy-to-use as possible.
When we talk about IT development, then this is a continuous never ending process because we live in the era of technology and there are so many bright minds in the world who come up with brilliant ideas all the time. We aim to implement as many of them as possible in our system. For more information please visit www.dagcoin.org