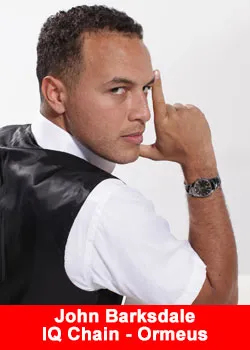 IQ Chain John Barksdale – Holton Buggs Review
November 10, 2018
In an article Crypto Currency And Network Marketing Can It Work? I defined a number of  requirements for a due diligence and this review is based on that.  Personally I like crypto currencies and blockchain technology and see their bright future, if executed well, with or without a compensation plan.
IQ Chain is making waves and we get many requests for interviews, reviews etc.
Recently, industry icon Holton Buggs was hired as consultant by John Barksdale to clean up the Ormeus Global crypto currency MLM investment opportunity. Ormeus Coin is/was a collapsed pump and dump alt coin. The original investment packages were up to $500,000.
It seems Barksdale – Ormeus Global has closed down the MLM investment opportunity for new investors and are focusing on IQ Chain.
 The old Ormeus or IQchain reps have the ability to opt in to IQ.  If they do they can keep their organization structure. IQ Chain will continue to honor the previous obligations of the Coin Distribution Contracts of its ISA's.
A comprehensive due diligence
Clean investors and top notch management. If the maffia or greedy investors are behind the project you are doomed.
Visiting the www.iqlegacy.com website does not reveal the management team or investors. Is this a debt free company? Who are controlling the buttons? Without this article a prospect has no clue who to trust his money…
IQ chain is set up as a DOA company which is a blockchain concept. Examples of real world DAO projects are The DAO company, Digix.global and the cryptocurrency Dash. There is no CEO, no managers.
The idea behind DAO companies is that the rules upon which the company functions are enforced digitally. Other decisions are made by shareholders who control a certain amount of the tokens, or smart contracts, who can vote for decisions.
Totally internet driven, no government, no banks….. payments in Bitcoin or an altcoin….
John Barksdale is without question a very intelligent guy, and position himself as a visionair leader. However has he used that wise in the past? He reached the rank of Regional Marketing Director in WorldVentures. A green flag.
He was involved in pump and dump crypto currencies such as Octa partners, Nano club, Crypto 888 club, OneCoin and WOWECoin. A red flag.
A network marketing professional with a clean long standing reputation, leading the field opportunity.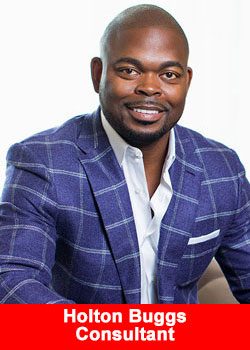 Holton Buggs, as consultant, he owns the BLC Advisory Group, is without doubt the reason for IQ chain recruitment success .
He stated:
We don't have a partnership nor do I have ownership. My company has  Strategic Advisor Consulting Agreement.

IQ's product offering objectives are to sell support software licenses and services to its ISA's (Independent Sales Agents) who will resell to wholesale and retail customers that support the crypto Industry. Not sell the Cryto…

As well as lifestyle products due to be released at launch.
With his top earner reputation, leaders such as Mike Sims, Jeremy Roma, Sarah Smus, Chad and Nattida Chong, Chanida and Nat Puranaputra are on board.
IQ chain / John Barksdale would not have sign up without Holton those USA top leaders. A green flag.
Product offering
According to the IQ chain website, 2 services are offered to distributors:
iQ Bot, an unique trading platform empowers you to navigate the emerging cryptocurrency markets with confidence.
Innerquest, in this ecosystem, you can use next-generation technology to raise your iQ by filling in your own specific knowledge gaps.
According to the compensation plan, packages start are $99 per month recurring with onetime investment fees from $100 up to $10,000 and payable in Bitcoin.
 There main product is a service called IQ bot. Ormeus Global launched IQ bot in 2017 as a trading bot with the promise of  160% ROI.
As a result of the volatility of the bitcoin market, trading bots have become increasingly popular among traders by allowing them to remain in control of their trading at all times, with the bot not sleeping even while the trader is. In addition, a correctly specified bot allows trades to be executed faster and more efficiently than the trader would be able to do manually.
According to IQ Chain: 
iQ Bot allows you to leverage an automated trading tool that never sleeps. Set up iQ bot, link it your accounts on one of the available cryptocurrency exchanges, set the parameters, and let iQ bot trade for you.

You retain complete control of your money while iQ bot works for you. Automated trading has never been so easy!
Basically you need to put Bitcoins in a trading bot and day traders are using your investment to make a profit(or loss) for you. 10% ROI per month is possible.  A green flag.
The company needs licenses to conduct financial service transactions in many jurisdictions.
Attorneys are working on US compliance so that IQ can service that market. A green flag.
A fair compensation plan
Investment in the binary IQ Chain opportunity can be as high as $10,000 or as low as $100. The monthly subscription fee is $99. The compensation plan can be downloaded here.
And part of distributor rewards are Ormeus Coins 🙂
IQ helps you keep up with our changing world by rewarding your business building efforts with the best digital currencies. As you grow and develop your iQ business, you will also join this exclusive new world economy.
Access to Ormeus Coin (ORME) cryptocurrency is made possible through a strategic relationships with Ormeus, the coin's developer. This relationship offers you the ability to own alternative currencies with exciting potential. iQ gives you an opportunity to earn ORME based on business performance.
Conclusion
The current product offering is bit thin and the smoke and mirrors should be solved, lack of transparency (website) should be improved. Offering almost worthless Ormeus coins as rewards to distributors damage the credibility of the IQ chain opportunity.
The DOA concept is brand new, it is the first Network Marketing opportunity who comes up with that experimental company structure.
If John Barksdale and the management of IQ chain implement Holton Buggs advices, IQ Chain could be a very interesting opportunity. Holton Buggs has put his whole 30 years credibility in 🙂
As always please conduct your own "Due Diligence" before you invest in an opportunity.
About John Barksdale (from his facebook)
John Barksdale has a textured history of business experience. Coming from a family of seven brothers and one sister, the concepts of responsibility and the importance of creative unconventional thinking were embraced at an early age. By the time he was thirteen, John had graduated high school and embarked on his first entrepreneurial venture in building a Technology Company.
John's Technology Company provided direct computer services and proved to be a raging success. This confirmed his confidence and pushed him to further challenge himself. Along the next couple of years he started several other businesses that became alternate streams of revenue, running sometimes up to 5 businesses at once, John has been making six figures since he was in his early teens. At the age of 15, again feeling the need to step outside of his comfort zone to allow for personal growth, he became one of the top sellers in his area for a satellite company by going the challenging route of selling door to door.
By the time he was 21, when most of his peers where just beginning to think about their first job out of college. John took his 8 years of business experience and started working with a well-respected marketing firm. His knowledge in sales led him to become one of the top distributors in the country; with an average client transaction three times that of the entire company. He went on to be awarded in his second year the coveted company vacation reserved for the top proven professionals in that company.
John's next venture was building a health and wellness business with one of the largest nutrition companies in the industry. Within his first six months he constructed a team into the thousands and became one of the top one hundred income earners in the company. The sales of his team in the first year were in the millions.
Moving forward; John wanted to explore the product of travel. 12 months into his run with a National Travel Club he had recruited nine thousand representatives in 12 months. Despite the fun that the travel industry presented, John missed the fulfillment of directly impacting people that he had experienced in the health and wellness industry.
So John was especially intrigued by the next project proposed to him for a Health & Wellness, Humanitarian Company. After creating relationships with over three thousand international humanitarians he convinced them to join their forces and raise a quarter of a million dollars that would be used to benefit the Humanitarian efforts of the Company.
His heart driven efforts of the humanitarian project caught the attention of a fortune 500 company who brought him on to their marketing team. John continued to impress by breaking every sales record ever set in this company and produced over two million dollars in new business in the span of three months.
After accumulating such notable success with working for the efforts of other companies John decided that it was time to implement his experience into his own company venture, Xenerchi. Following this John partnered with a prestigious manufacturing entity, known for producing revenue of 220 million a year. He began a product creation, branding and marketing company that has brought over 200 hundred products to the market in the last five years. Personally recruited and training two thousand five hundred representatives nationwide in the first 3 months of business.
John keeps current to the market trends and has reviewed over 800 companies from operations, compensation structures to marketing strategies in the last two years. John is confident that he has the ability to assist and empower anyone with a desire to succeed regardless of the nature of their company. John's knowledge of business and human psychology combined with his understanding of numbers creates a harmonious synergy you rarely find. The skills and execution he brings to the table are unrivaled at best.
Get more information, fact and figures about IQ Legacy, click here for the IQ Legacy overview.