OneCoin Announce To Being Listed On An Exchange Shortly
January 9, 2019
By Team Business For Home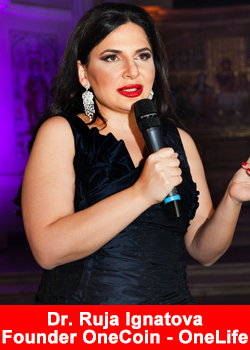 According to an OneCoin Press release:
"The OneCoin company is proud to announce that the OneCoin cryptocurrency (ONE) is only a step closer to being listed on an exchange.
The company is executing a long-term corporate plan which was established as a result of the ambitious goals of its Founder and Visionary. (Ruja Ignatova)
Please be informed that the development and the licensing of the exchange platform is implemented on time. The exchange will combine remittance and exchange services.Currently, the last audit of the platform and the technical connection with the Central bank are happening.
We would also like to state that the merchants which are part of the DealShaker interactive commerce hub, and their security, are the primary concern of the relevant teams.
We will not allow any exchange to launch that isn't absolutely secure, safe and fits. We're almost there and in a position to give DealShaker's esteemed merchants what they have been promised them and even more.
In addition, it has come to our attention that recently there seem to be various misinterpretations of what the future steps of the corporate strategy are which seems to be causing unnecessary commotion among our users.
With the current press release the company aims to answer all queries and to explain everything that might not have been clear enough until the present moment."
About OneCoin – Onelife
The OneLife Network (OLN) is a growing global network that was born out of the OneCoin cryptocurrency brand. The Network has a digital platform with a unique ecosystem of sophisticated products and social networking tools that help members achieve financial independence.
Members enjoy access to an array of e-learning programs that help them apply financial theory to practice. This allows them to understand, mine and trade cryptocurrency, and make secure, low-cost, cross-border transactions.
Our vision is to provide alternative payment solutions and equal access to financial education to people worldwide. The OneLife Network makes financial transactions and trade safer, easier, and available to everyone on the web. Our ecosystem of virtual tools and services holds the potential to open new economic markets for cross border trade and to stimulate economic growth.