OneCoin Statement Regarding The Arrest Of Konstantin Ignatov
March 13, 2019
By Team Business For Home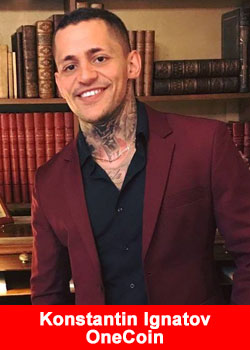 Official OneCoin statement regarding publications concerning the arrest of Mr. Konstantin Ignatov on US territory.
OneCoin and its affiliates would like to address the recent media reports regarding the arrest of Konstantin Ignatov in the United States of America.
We can confirm that Mr. Ignatov is currently in the United States. Based on the information that has been made public by the U.S. authorities, we understand that they are investigating allegations of conspiracy to commit wire fraud.

Mr. Ignatov has not been formally charged with a crime and is entitled to a presumption of innocence.
If he is charged, he will have the opportunity to challenge the case before a U.S. court of law.
Transparency is one of the core values of OneCoin and we stand firmly behind this belief. We have always stated our willingness to be open with regulators and the media, and request the same courtesy.
We therefore strongly urge the press to refrain from speculation and judgment on the U.S. investigation until more information becomes available.
About OneCoin – Onelife
The OneLife Network (OLN) is a growing global network that was born out of the OneCoin cryptocurrency brand. The Network has a digital platform with a unique ecosystem of sophisticated products and social networking tools that help members achieve financial independence.
Members enjoy access to an array of e-learning programs that help them apply financial theory to practice. This allows them to understand, mine and trade cryptocurrency, and make secure, low-cost, cross-border transactions.
Our vision is to provide alternative payment solutions and equal access to financial education to people worldwide. The OneLife Network makes financial transactions and trade safer, easier, and available to everyone on the web. Our ecosystem of virtual tools and services holds the potential to open new economic markets for cross border trade and to stimulate economic growth.