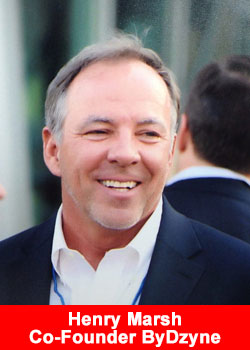 Former MonaVie Co-Founder, Henry Marsh, Teams Up With ByDzyne
April 25, 2019
ByDzyne™ is excited to officially announce that Henry Marsh has taken up the important role as Executive Vice President and Co-Founder of the company.
Henry Marsh has accomplished a lifetime of significant achievements and has extensive experience in the network marketing industry.
In 2005, he most notably became Co-Founder & Vice-President of MonaVie, a network marketing company that opened in over 40 countries and broke industry sales records, climbing to over $2 Billion in sales in just five years' time.
His spirit of excellence started as a young man, when he became a 4-time Olympian, setting 4 U.S. records in the 3000m steeplechase which lasted 27 years. For 3 years he was ranked #1 in the world and was later inducted into the U.S. Track & Field Hall of Fame.
He was a consultant to the President's Council on Physical Fitness and Sports, and served as a member of the Executive Boards of the US Olympic committee and 2002 Salt Lake Olympic committee.
Henry is a big believer in giving back. He founded the Never Better Foundation which is dedicated to helping special needs children. Henry's amazing life story is featured in the official 1984 Olympic film "16 Days of Glory" produced by Paramount Pictures.
Henry's incredible drive, work ethic, and care for others make him a priceless addition to the ByDzyne™ Executive Team. With his wealth of experience and inspirational story, he will be instrumental in helping to establish a culture of goodwill at ByDzyne™ and assisting individuals as they seek to achieve their personal financial and lifestyle goals.
"There are many reasons why I joined ByDzyne. When I look at an opportunity, I look at 5 essential pillars that are the crucial foundational components of any company.

If any of these pillars are weak, that weak foundation will threaten the company's ability to last.
The first pillar is ownership and management. It is critical that the ownership is experienced, has a positive track record, is well-funded and capitalized, and has a capable management team that can run operations globally without a hitch.
At ByDzyne™, we have the best group of owners and managers that I have ever seen come together.

We have over 150 years of field/corporate leadership experience under our belt, and under our guidance during that period of time, we have generated over $20 Billion in field/corporate sales.
The second pillar is field leadership. We have a very unique field leadership in place who are also owners in the company. This ensures that the voice of the field is heard at the board level, and that voice has voting power on all major company decisions. ByDzyne's business model is customer and leader focused because we have owners that truly understand what is needed in the field and have the capacity to act on those needs.
The third pillar I look for is the product offering. Every company that is built to last has a variety of products in different verticals to provide stability in the marketplace.
Simply put, the product culture at ByDzyne™ is ground-breaking, disruptive and has never been done before. We have multiple product verticals and are continually adding new ones.

This diverse and innovative approach ensures that the company is far-reaching, stays progressive, and maximizes longevity.
The fourth critical pillar is the compensation plan. The compensation at ByDzyne™ is second to none. Not only is it the richest compensation plan, due to more of the gross revenues being put towards the plan than any company I have ever been exposed to, but it is also distributed with the beginner in mind, making it easier for the average network marketer to generate $500/month.* In addition, the plan is very lucrative on the top end to properly reward the builders and leaders, paying as much as $1 million per month on the binary component alone.*
The fifth pillar that is very important is culture. The ByDzyne™ founders are all people that are concerned with and are building a culture of cooperation, giving, caring about others and having fun. It's the type of culture that I want to help build, and that I love being a part of.
These five pillars are what everyone should look for when they are considering joining a company. That's why I found a home in ByDzyne™.
With these five pillars, an opportunity is created to do things that have never been done in a network marketing company before. At my previous company, we set growth records but when we started, we had merely a fraction of what we have at ByDzyne™.
I believe we are already three years ahead in terms of our company/field leadership and our product offering, than we were at my previous company at this same stage of development.
My vision with ByDzyne™ is to again set records. My life has been about setting records in track & field and setting records in network marketing. It is woven into my very DNA. Together with our incredible team, I will do everything in my power to help set new records, and do so with everyone who chooses to join us on what is sure to be an amazing journey."
About ByDzyne™
ByDzyne's multi-faceted approach disrupts the traditional industry model by first understanding that one size DOESN'T fit all.
You were born into a particular culture, with unique tastes, interests, and desires. ByDzyne™ was created with a mission to celebrate your uniqueness and empower your extraordinary potential.
Our exceptional "culture-crafted" products meet distinct needs in key consumer markets, and our lucrative business opportunity was formulated to fuel your ideal lifestyle, as YOU see fit.
Our visionary leadership wanted to create an unparalleled company with your individual needs in mind, whether as a consumer or Brand Ambassador. This customizable approach is a driving force that propels everything we do and will do in the future.
We are launching into not one but FOUR of the fastest growing multi-trillion dollar industries, creating one of the most explosive opportunities in the market, starting with technology, beauty, wellness, and travel.
Our mission is to continue to expand our global footprint into multiple verticals to maximize your income opportunities, capitalize on trends, and gain market share in upcoming industries as they advance. Soon we will be adding a digital category to our product lineup, further strengthening our value proposition.
Through ever-evolving innovation, and with utmost integrity, our experienced executive team strives to stand apart from the pack, and build a legacy you can be proud of; one you can truly call home.
We are ByDzyne™. Where limitations don't exist. For more information please visit www.bydzyne.com