Jenna Zwagil – MyDailyChoice – Built A Following With Total Authenticity
April 2, 2019
By Team Business For Home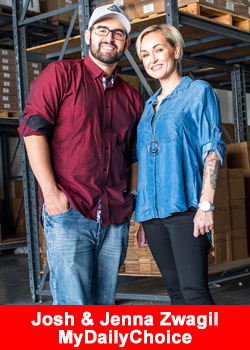 No one can deny that the success of MyDailyChoice and HempWorx is only possible because of the passionate following that Jenna Zwagil has built.
She has brought together a community of people who are dedicated to the movement to legalize hemp and change lives with CBD products. She did this primarily through social media, but how exactly did she get it done? How did she cut through the noise of countless people and products to not just find her community, but activate it?
Authenticity.
The best way to understand exactly what that means is to hear about it in Jenna's own words:
I have loathed writing on this topic mainly because it's the one topic everyone has hounded me about, and yet it's the topic that has made me feel like a fraud. Social media was a big part of my online career initially, but it eventually became so irrelevant.
Relationships may start on Facebook, or Instagram, or Twitter, but they certainly don't have to remain there. I'm more interested in the people than the show, and Facebook, to me, had become one giant competitive reality show. I wasn't interested in that, and I've found it hard to maintain my integrity while under a spotlight.
There was a time when I was popular. All the 'cool kids' followed me and I was in their inner circle, so long as I played by their rules:
"Never post about religion or politics or anything controversial."
"

Don

't be who you really are, that's a bit too edgy for most people."
"Only post things of value.
Your Facebook wall should resemble a blog full of information people want. People stop by to 'get something from you'."
At first I was ok with this. I was getting real results, and fast. I had lots of engagement, and people seemed to hang on every word I said. The interesting thing is, even my edgy posts were popular.
But as I began to step outside the lines of what was 'appropriate', fewer and fewer people liked what I had to say, until it felt like I was alone in an empty room, wondering if anyone ever really knew me. It was only then that I realize how much value I placed on everyone else's opinions of me.
Facebook is for fakers, and I wasn't one. Not anymore.
I wasn't comfortable selling the lie. The fact is, you can make huge waves in social media if you really want to, but at the cost of what you really stand for. Marketing is all about appealing to your audience and delivering a message they want to hear. It really has nothing to do with what you want, or what you want to say; it's not about you at all.
But here's the caveat…
You can create a brand, a business, a following around who you actually are. But it'll take some work to find and collect the friends who you're in alignment with.

Whatever your interests are, find others with similar interests. It is not an overnight success mission. It takes time, just like everything else.
You could buy followers, you could buy likes and comments, you could buy engagement; you can sell yourself by buying others. But at the end of the day, you're left with you and your brand, and if you're not making a difference in the world you're selling yourself short at best and failing at worst. Failing to make a difference. Failing to care about the real people, just like you, who are in desperate need of guidance you possess right now.
The best piece of advice I can give you is to escape the 'high school popularity contest' of who has the most followers and likes, and focus on how you can change lives, one at a time.

When you shift your focus to that, the people will come and they will be grateful for you, and not the falsely branded version of you, the real you.
You can take the shortcuts in social media if you wish, but the only person you're cheating is yourself. To build a long-lasting, fruitful business, it takes the careful selecting of followers that align with the message you're presenting. Being real is 'in'.
MyDailyChoice Affiliates can learn more about social media directly from Jenna, but you'll see more of her social media expertise here at Business for Home over the next few months.
About MyDailyChoice
At MyDailyChoice, we are 100% committed to providing our independent business owners and customers with the most attractive and highest quality product lines within top-trending industries.
Our mission is to empower families around the world through good health, financial opportunities and the smart daily choices that can deliver both. That is why we provide an unprecedented compensation plan and a unique and innovative line of products made with the highest quality CBD oil, grown and manufactured right here in the US.
MyDailyChoice was founded in 2014, merged with HempWorx in 2017, and is currently headquartered in Las Vegas, NV. Under the leadership of Founders Josh and Jenna Zwagil, MDC reached $100 million in sales in 2018. For more information please visit www.mydailychoice.com and www.Hempworx.com