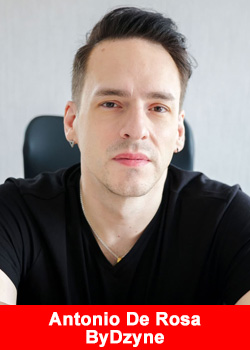 ByDzyne Appoints Tech & Design Guru, Antonio De Rosa, As Head Of The Technology Board
May 13, 2019
ByDzyne™ is pleased to announce their newest addition to the Corporate Team, technology expert and designer, Antonio De Rosa.
Antonio will be acting as the Head of the Technology Advisory Board, bringing his wealth of knowledge, experience, and talent in the field of IT and graphic design to the company, further strengthening the impressive Corporate staff already set in place.
Originally from Italy, Antonio De Rosa approached the world of communications and marketing at a young age, starting with a very formative experience in the video-game industry, where he took on various roles, from graphic designer to project manager.
"I feel incredibly honored to take on this newbfound position and am grateful for the relationships I have developed with the Founders of ByDzyne™.
He later completed his studies with a Masters in Communication and Marketing, specializing in Creative Direction.  He soon after took on positions in large advertising agencies in Italy, USA, and Asia, working as a Web Designer, Senior Graphic Designer, and Art Director.
He continued to expand his knowledge and abilities through instrumental roles where he was involved in numerous international campaigns and with various IT companies in China, Taiwan, Singapore, and Hong Kong. During those years he continued to follow his passion for Industrial Design by designing several mobile devices, hi-fi systems, and home entertainment systems for many OEM manufacturers.
We have formed a very strong Corporate team. Our ability to work together with true comradery and unity set us apart from teams I have worked with in the past. This unique cohesiveness of vision and purpose, with the ability to reach a common goal, is what originally drew me to this industry.
A true visionary and an innovator, Antonio developed a considerable reputation for his design concepts on the web including future Apple products, like the iWatch (2010), anticipated the launch of the Apple Watch by 5 years.  In addition, he produced a long list of award-winning iPhone mockups, many which were published in some of the most acclaimed IT magazines in the world.
ByDzyne™ is a real treasure and one that is hard to find amidst the landscape of companies in this space. I consider myself extremely lucky to have had our paths meet.
In 2012, he created Socialmatic LLC, an IT Photo-Company focused on creativity and innovative products in the area of photography and imaging. With Socialmatic he won the Best Innovation Award at CES in Las Vegas for two years in a row (2014 / 2015) and the Star Award 2015 at Photokina, in Cologne, Germany.
This common sense of family, friendship, and purpose was an integral reason why I joined ByDzyne™. I have always desired to position myself with a legacy company and what we have built at ByDzyne™ matches everything I have looked for in a company and Corporate team.
Providence would eventually lead him to discover the industry of Network Marketing. Thanks to his previous experience in social networking, relationship marketing, and community building, he further honed his skills, quickly becoming a specialist in marketing and communications for major Direct Sales/Network Marketing companies.
His career would lead him to become the Chief Design Officer for a large international company, where he won the award for the Top Direct Selling Product for 2017 (according to BusinessForHome.org).
My intent and vision is to take everything I have learned in my career and excel far beyond my prior accomplishments.  As a designer, I'm always trying to envision the future and pinpoint where current trends are taking us.

The key is to stay just slightly ahead of the curve of innovation in order to produce products and solutions that are cutting-edge, but also meeting that sweet spot of demand in the marketplace.
Through his new role as Head of the Technology Advisory Board of ByDzyne™, Antonio looks forward to continuing to serve the industry, using the best of his talents and abilities to benefit the company's many customers and Brand Ambassadors.
Antonio stated:
To design the future and be an integral part of the progression of the industry is a process that requires vision, research, planning, patience, fortitude, courage, and an insatiable hunger to "go where no man has gone before."

ByDzyne™ understands this more than any company I have worked with before. We are building a culture where "one size DOES NOT fit all", and by first establishing that core business philosophy, it allows us to create unique and relevant products for distinct markets and consumer needs.

This makes our overall product experience incredibly powerful and different than anything I've witnessed in this industry.

I am more than thrilled to bring my creative abilities, experience, and knowledge to ByDzyne™ and to play an integral role to bring a breath of fresh air to this profession, working towards building a multi-billion dollar brand that will touch tens of thousands of lives and leave a positive impact on the planet.
About ByDzyne™
ByDzyne's multi-faceted approach disrupts the traditional industry model by first understanding that one size DOESN'T fit all.
You were born into a particular culture, with unique tastes, interests, and desires. ByDzyne™ was created with a mission to celebrate your uniqueness and empower your extraordinary potential.
Our exceptional "culture-crafted" products meet distinct needs in key consumer markets, and our lucrative business opportunity was formulated to fuel your ideal lifestyle, as YOU see fit.
Our visionary leadership wanted to create an unparalleled company with your individual needs in mind, whether as a consumer or Brand Ambassador. This customizable approach is a driving force that propels everything we do and will do in the future.
We are launching into not one but FOUR of the fastest growing multi-trillion dollar industries, creating one of the most explosive opportunities in the market, starting with technology, beauty, wellness, and travel.
Our mission is to continue to expand our global footprint into multiple verticals to maximize your income opportunities, capitalize on trends, and gain market share in upcoming industries as they advance. Soon we will be adding a digital category to our product lineup, further strengthening our value proposition.
Through ever-evolving innovation, and with utmost integrity, our experienced Corporate Team strives to stand apart from the pack, and build a legacy you can be proud of; one you can truly call home. We are ByDzyne™. Where limitations don't exist.