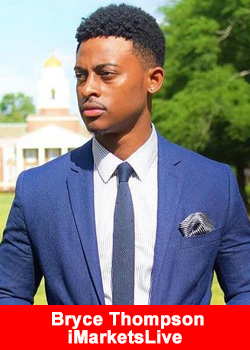 Bryce Thompson Achieves Chairman 100 Rank At IMarketsLive
July 31, 2019
Bryce Thompson (23 years old), is a Networking Leader and Chairman 100 with International Markets Live. (IML)
Thompson has established and maintained a remarkable standing and reputation as an up and coming leader in Entrepreneurship. With a high social media presence and a following of 20K+, this 23 year old has leveraged his influence on his Instagram Platform, and hosted various events where he has been successful in gathering a diverse group of people age specific to the millennial generation and college students.
Having reached over 50 collegiate institutions in over 40 states nationally, he continues to mentor and build a strong networking platform.
Thompson is based in Atlanta, GA, where he continues to lead a team of over 6,000 members globally. His monthly earnings are around $100,000.
Thompson began building his business and leadership skills in iMarketsLive as a college student while pursuing an internship at an engineering company. He credits his older brother, Branden Thompson, for his introduction to the company and has made it clear that he "has the best team and leaders ever."
He has a cast of amazing leaders including Reynaldo Perez, Christopher Raxton, Markita Jackson, Nathan Samuel, Oge Onwudiwe, Daniel Valbrun, Joshua Stewart & Noelle Trimble.
His calculated decision to pour into his own business, instead of riding someone else's wave has been a key to his major growth and impact. He lives with the conviction that hard work and dedication will always compensate for inevitable trials, and when in the middle of a storm ask not how you can get out of it but instead focus on getting through it.
With this mindset, he has become more than a conqueror and continues to help lots of people become successful.
Bryce has been a trailblazer for millennials in this industry. Bryce Thompson can vouch that a good work ethic coupled with a strong team of individuals will take you to the top while building the strength to lift others up.
"It's not about ME, it's about WE. & together we are going to the top and going to do our part to help iMarketsLive become a Billion dollar brand.
About iMarketsLive
iMarketsLive provides a full array of retail trading products and services to a global audience for those who want to participate in the Forex & Futures Markets. iMarketsLive's services include a Live Educational Services, and other amazing services.
iMarketsLive has a bundled their products/services with a Network Marketing compensation plan that allows its IBO's to earn a generous income by simply sharing their services with others and building a residual income though building a network of IBO's and customers.
For more information please visit www.imarketslive.com
Get more information, fact and figures about iMarketslive, click here for the iMarketslive overview.