Wachiramet Nitiwataektada & Voravee Chaiya From Thailand Achieve 2-Star President Rank At ByDzyne
July 9, 2019
By Team Business For Home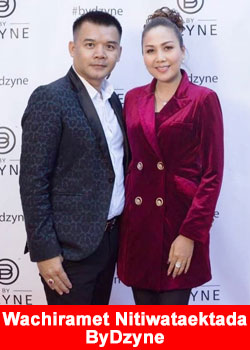 Mr. Wachiramet "Nick" Nitiwataektada & Miss Voravee "Gai" Chaiya are known as one of the top Leaders in Thailand, and have recently decided to plant their flag with ByDzyne.
Within their first week, they achieved the top rank of 2-Star President, which generates over $400,000 of sales revenue in a 2 week period.
In the past, they were the owners in the clothing business, however, once they were introduced to the network marketing industry, they haven't looked back since. Now they pride themselves with over 20 years of experience in this industry, and were ranked #92 top income earner in all of network marketing. (Listed by Business For Home)
They truly believe that network marketing is the best business model to change people's lives. "What better way is there to receive results back by simply helping other people? Trust us. We know what it feels like to be traditional business owners without getting any success from it.
However, in this industry, it is so rewarding both financially, spiritually, and emotionally knowing the lives we are able to impact."
So, why ByDzyne?
"When choosing a company to partner with, most people tend to look for factors such as financial backing, a unique product with zero competitors, the best compensation plan, an experienced corporate team, strong leaders to help their team grow, first-movers timing, etc.

But you know what the only reason was in terms of choosing ByDzyne? It is  purely because of our mentors Nat & Chanida Puranaputra and their family Chad & Nattida Chong, They are incredibly amazing to make what we call the best opportunity builder. We truly believe that these people are the success factor that will attract a lot of successful people together at ByDzyne.
It's didn't take long for us to make a decision to join ByDzyne. We respect Nat & Chanida like one of our parents that have taught us everything, from business to family life.
ByDzyne is truly unbelievable. It feels as if the universe sent us a backup to help a lot of people to create more success in their life, with an easier solution. ByDzyne is unique, outstanding and easy to understand if you open your mind to it.
You will see a better future, a better house, a new car, and an increasing number in your account. You will picture yourself in the place where you want to go and do whatever you want to do and we believe that all of these dreams can be happen in a very short period of time.
We truly believe that a lot of income and opportunity is waiting for us because of ByDzyne. We'll help 100 families in our team to make a six-figure income/ month. Finally, we will create happiness for the people and provide a path for a successful and happy life.
About ByDzyne™
ByDzyne's multi-faceted approach disrupts the traditional industry model by first understanding that one size DOESN'T fit all.
You were born into a particular culture, with unique tastes, interests, and desires. ByDzyne™ was created with a mission to celebrate your uniqueness and empower your extraordinary potential. Our exceptional "culture-crafted" products meet distinct needs in key consumer markets, and our lucrative business opportunity was formulated to fuel your ideal lifestyle, as YOU see fit.
Our visionary leadership wanted to create an unparalleled company with your individual needs in mind, whether as a consumer or Brand Ambassador. This customizable approach is a driving force that propels everything we do and will do in the future. We are launching into not one but FOUR of the fastest growing multi-trillion dollar industries, creating one of the most explosive opportunities in the market, starting with technology, beauty, wellness, and travel.
Our mission is to continue to expand our global footprint into multiple verticals to maximize your income opportunities, capitalize on trends, and gain market share in upcoming industries as they advance. Soon we will be adding a digital category to our product lineup, further strengthening our value proposition.
Through ever-evolving innovation, and with the utmost integrity, our experienced executive team strives to stand apart from the pack, and build a legacy you can be proud of; one you can truly call home. We are ByDzyne™. Where limitations don't exist. For more information please visit www.bydzyne.com.