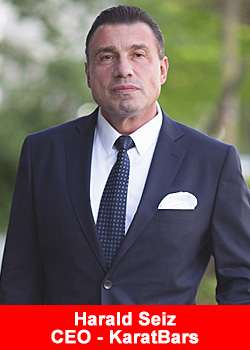 KaratBars Frauded For $12 Million – Former ICO Partner Marvin Steinberg Accused
August 24, 2019
As by Google translate from the German Netcoo Website:
Behind the scenes of karatbars there is a huge drama. The Stuttgart-based company is currently heavily attacked and speaks of a dirt campaign, which is mainly driven online. Mastermind of this hunt, Karatbars suspects, is said to be Marvin Steinberg, Steinberg Marketing GmbH. The Netcoo editorial department has extensive documents, which prove a dispute between the two former business partners.
The ICO's (Initial Coin Offering) Karat Gold Coin (KBC) and KaratCoinBank Coin are said to have been fraudulent. Karatbars is cheated of $ 12 million, and the damage may be even higher.
2.8 MILLION EURO FOR THE ICO
Marvin Steinberg and his company "MyICO Agency / Steinberg Marketing GmbH" were commissioned in December 2017 with the creation of a coin and the implementation of an ICO.
Steinberg's agency created the KBC Coin on Ethereum basis and according to Karatbars only Steinberg had access to the 12,000,000,000 coins generated. By agreement, Steinberg had a website created and controlled the revenue by selling the coins.
One paid to Marvin Steinberg over 2.8 million euros for the ICO, the websites and the organization of Listings at appropriate crypto exchanges (by fee accounts provable). The ICO started and first investors bought the coins.
According to karatbars "Steinberg had all the strings in his hand. Alone he could transfer coins. "Karatbars mentions a case in which a buyer 15 million coins were transferred, although only 1.5 million coins have been granted. In another case, even without legitimacy, 180 million coins should have been sent to a wallet in South Africa.
LEGAL STEPS INITIATED
Even then, Karatbars saw a serious damage to his reputation. Accordingly, Steinberg was required to fulfill its obligations as a service provider, whereupon the latter decided to quit as a business partner. Where exactly the reasons are, the Netcoo editors are not yet known. Both parties decided to split up amicably (mail traffic is Netcoo).
After Steinberg was no longer accessible according to Karatbars, the company initiated legal action against Marvin Steinberg. "Only when the court date for the release of the coins was determined, the ICO entrepreneur reacted and wanted to agree out of court".
According to Karatbars, the first handover revealed that a wallet with over 400,000,000 coins was not handed over. However, since it came in principle to a transfer, the court saw no further reason to lead a procedure to the still missing coins.
Only the prosecutor Stuttgart took the preliminary proceedings against Marvin Steinberg for fraud again (AZ 104 Js 41359/19).
On Netcoo demand, Karatbars confirmed that 239 million coins (about $ 12 million) were sold out of the missing wallet, which led to a fall in the price of the KaratGold Coins, causing enormous damage to investors and companies.
SPAM MAILS FROM RUSSIA?
Currently, spam mails flood the network warning against karate bars. In addition, 1-star ratings pile up on Google, the karatbars in a bad light back. Karatbars suspects that an agency in Russia has been commissioned to work badly on karatbars and its cryptoplanes.
Also, affiliate partners of karatbars are to be contacted to raise them against the company. Karatbars is now seeking a class action lawsuit.
Marvin Steinberg, on the other hand, published a press release online only a few days ago ("Landgericht Mainz & OLG Koblenz decide in favor of Steinberg Marketing GmbH", August 15, 2019), in which he comments on the failed "KaratGold Cooperation".
His statement: "Both the Mainz District Court, as well as the Higher Regional Court Koblenz held the application, the appeals and complaints for insubstantial, there are and did not make any claims." And he said that the BaFin warns of the financing model ICO since As in this case, it is a speculative business with the cryptocurrency KBC.
Why an ICO service provider is now on the side of BaFin raises new questions. Netcoo continues to investigate the case. (BS)
About Karatbars International
Karatbars International was founded in 2011. The company specializes in the sale of small gold bars and gift items in gold bullion.
The headquarters and the logistics center of Karatbars International is located in Stuttgart, Germany. It is responsible for the support, marketing, customer and partner communication, execution and delivery of orders. Headquarters also co-ordinates the opening of new countries throughout Europe.
Deliveries in smaller quantities are packaged under video surveillance at the headquarters of Karatbars International, and shipped daily via FedEx.
Our clients range from individuals and families to consumers and traders. We value every client of Karatbars and align our company to better serve our clients' needs. Our client base is supported by the efforts of our affiliate partners around the world.
Get more information, fact and figures about Karatbars, click here for the Karatbars overview.