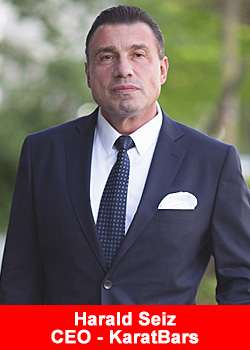 Karatbars Under Investigation In Florida By The OFR
October 4, 2019
CoinDesk is the leading digital media, events and information services company for the crypto asset and blockchain technology community. Its mandate is to inform, educate, and connect the global community as the authoritative daily news provider dedicated to chronicling the space.
Coindesk reports:
A German company that claimed to raise $100 million in a 2018 initial coin offering (ICO) is being investigated by Florida financial regulators, CoinDesk has learned.
Karatbars International GmbH has announced plans to follow its first token sale with another one in December 2019. While the 2018 token sale was for its allegedly gold-backed KaratGold Coin (KBC), this year the company has been promoting a KaratBank Coin connected to a "cryptocurrency bank" in Miami.
The claim about a cryptocurrency bank seems to have landed the firm in hot water with the Florida Office of Financial Regulation (OFR).
"Karatbars is not licensed as a bank with the OFR," the agency's director of communications, Katie Norris, told CoinDesk. "The OFR has an open investigation, and so that is all the information I can share at this time."
Karatbars International GmbH has not responded to CoinDesk's requests for comment. We will update the article if we hear back.
The Florida investigation is not the first time Karatbars has come under regulatory scrutiny. The company was founded in 2011 by German entrepreneur Harald Seiz, who still heads it.
In 2014, long before Karatbars' first token sale, Quebec's Financial Markets Regulator issued a warning for investors to "be cautious" about the company, which offered internet-based purchases of gold to prospective "affiliates." Karatbars offered these buyers a commission to sign up other affiliates.
Regulators in the Netherlands and Namibia have issued similar public warnings, with the former calling Karatbars' business a form of multi-level marketing and the latter going so far as to label it a pyramid scheme.
The full article can be found here
About Karatbars International
Karatbars International was founded in 2011. The company specializes in the sale of small gold bars and gift items in gold bullion.
The headquarters and the logistics center of Karatbars International is located in Stuttgart, Germany. It is responsible for the support, marketing, customer and partner communication, execution and delivery of orders. Headquarters also co-ordinates the opening of new countries throughout Europe.
Deliveries in smaller quantities are packaged under video surveillance at the headquarters of Karatbars International, and shipped daily via FedEx.
Our clients range from individuals and families to consumers and traders. We value every client of Karatbars and align our company to better serve our clients' needs. Our client base is supported by the efforts of our affiliate partners around the world.
Get more information, fact and figures about Karatbars, click here for the Karatbars overview.