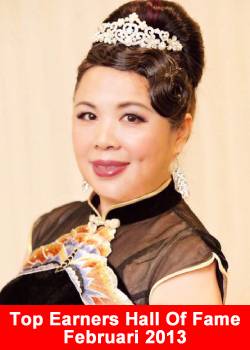 Top Leader Xiu Zhen Dong Achieves 2 Star President At ByDzyne
October 2, 2019
Top Leader Xiu Zhen Dong (Jane) Joins ByDzyne & almost immediately achieves 2 Star President.
A 2-Star President generates over $400,000 of sales in a 2 week period, and there was no doubt that Jane would sprint pass this rank because of her extensive track record and love for people.
Born in Fujian, China, Jane graduated from Shanghai International Studies University, and majored in Japanese. She also lived in USA, Taiwan, and finally settled her roots in Japan to expand her Nu Skin Business. With 23 years of network marketing experience, Jane achieved the Sales Champion of Japan award in 2010, and was the first foreigner to ever be awarded this. And success consistently followed her thereafter.
However, Jane knew she wanted more for her people, and the ability to expand globally fast, with the heart of the company understanding the heart of the people. ByDzyne was the immediate and obvious answer she was looking for.
So what attracted Jane to ByDzyne?
I was drawn to its concept. It matched the balanced lifestyle I always promote. Design your life, design your future. ByDzyne is a great modern MLM model that has beauty, health, travel and technology.

The possibilities are endless which ensures flexibility, but most importantly longevity for the people. If you can dream it, ByDzyne can "dzyne" it.
Chairman & Co-Owner Chanida Puranaputra is also a friend of mine and the best business partner. Just like me, she takes challenges head on, and embodies such amazing strength and grit. We understand each other, but more importantly, she understands the heart of the people.
Being ranked #4 Income Earners in the world, both her and her husband Nat Puranaputra completely understand the need the field, and the entire corporate team goes above and beyond the extra mile.
ByDzyne is a global business opportunity that can help change people's lifestyle. I'm committed to expand my business from Asia to the world. Any leader out there interested in Asia? I welcome you with open arms to my Club.
I am so happy, honored, and fulfilled to be part of the ByDzyne team. I love to strive and create things from zero. Success is a process and you need to keep the faith with continued action and activity to achieve your dreams.
Your potential is unlimited when it comes to dream achieving, but you also must be given the right opportunity.
What you choose and its timing is critical. ByDzyne gives us a chance to work globally. Let's use our imagination, creativity, and talents to its full potential and become the shining star!"
Chanida Puranaputra stated,
"We are so excited to be partnered with Jane. She is truly a superstar and such a go getter. There is no doubt that her main focus is to break records and help thousands of people do the same."
Nattida Chong remarks,
"Watch out world. Jane is coming! Her work ethic is hard to match. When she has a goal, she sets out to reach it and won't stop until it is accomplished. Anyone would be lucky to partner with such a powerhouse like her!"
So what are some of Jane's Success Tips?
"Have a clear goal, date and plan and then act. Inspire and give hope to people by always being positive and full of passion and confidence.
The key in business is to be mindful of others. With this spirit, I was able to reach the highest success in several areas.
Are you looking for a new opportunity? Are you seeking to break your own record and achieve greater success? Do you want to earn income while you travel? Do you want to use the latest technology products for free? Do you want to be beautiful, healthy and wealthy? Do you want to create a global network? Do you want to partner with world elites? Do you want to live the Asian Dream?
Let's share this wonderful opportunity called ByDzyne. Let's build a new success story together.
Life is a HOLIDAY.
Every day is your BIRTH DAY.
Work is about trying to achieve your DREAM.
This Earth is both your playground and workplace
Self-development and charity are our hobby.
This is the lifestyle I promote at CLUB EARTH, a success school, which I founded. A Wonderful life can be achieved if we design it precisely.
Our goal is to create 1,000 millionaires in Club Earth through ByDzyne. Here are my mottos.
"Do the best and accomplish what you can. Set a date and accomplish what you were not able to do as soon as possible."
"Dream big, have clear goals, plan in detail, act fast, be persistent, and never ever give up, and continue on!"
About ByDzyne™
ByDzyne's multi-faceted approach disrupts the traditional industry model by first understanding that one size DOESN'T fit all.
You were born into a particular culture, with unique tastes, interests, and desires. ByDzyne™ was created with a mission to celebrate your uniqueness and empower your extraordinary potential. Our exceptional "culture-crafted" products meet distinct needs in key consumer markets, and our lucrative business opportunity was formulated to fuel your ideal lifestyle, as YOU see fit.
Our visionary leadership wanted to create an unparalleled company with your individual needs in mind, whether as a consumer or Brand Ambassador. This customizable approach is a driving force that propels everything we do and will do in the future. We are launching into not one but FOUR of the fastest growing multi-trillion dollar industries, creating one of the most explosive opportunities in the market, starting with technology, beauty, wellness, and travel.
Our mission is to continue to expand our global footprint into multiple verticals to maximize your income opportunities, capitalize on trends, and gain market share in upcoming industries as they advance. Soon we will be adding a digital category to our product lineup, further strengthening our value proposition.
Through ever-evolving innovation, and with the utmost integrity, our experienced executive team strives to stand apart from the pack, and build a legacy you can be proud of; one you can truly call home. We are ByDzyne™. Where limitations don't exist. For more information please visit www.bydzyne.com.