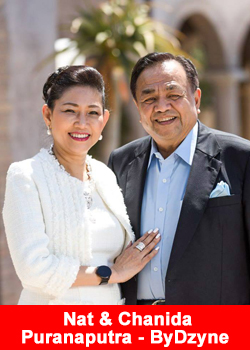 ByDzyne Partners With – Malaysia Based 25 Years Old – Elken Global
November 5, 2019
ByDzyne™ and Elken®, two unique, innovative, and award-winning companies, have aligned to create an epic success story.
Introducing ByDzyne™, powered by Elken® (EKBD) — a new global joint venture that takes the very best components of each respective company and unites them under one multi-cultural, multi-faceted, far-reaching umbrella.
Founded in 1995, Elken® has become an internationally-recognized and well-established success story, achieving total sales exceeding $233 million annually.
With a company footprint that spans the globe, including offices in 10 countries and a strong network of over 1 million distributors and customers.
With a vision to enrich lives, over the last 25 years Elken® has developed a detailed blueprint built upon five solid pillars — people, products, opportunity, culture and values — forming the framework that has served to build out and initiate their mission.
Elken's award-winning wellness, beauty, household and consumer products have been meticulously formulated with the highest standards to meet a wide variety of needs and unique demands in key markets.
Founded in 2018, ByDzyne™ was established by a team of co-founders who have each reached the pinnacle of success in their respective fields over the past 30+ years, and have been globally recognized, receiving multiple awards and accolades during that time.
ByDzyne™ was created to be a different kind of brand; one that understands the need to go beyond the status quo by providing multiple product verticals and personalized solutions for various people groups, markets, and cultures.
Over 150 years of MLM Field/Corporate Leadership Experience
Over $20 Billion in MLM Field/Corporate Sales
Over $150 Million commissions earned in the MLM industry
As both companies set out individually to accomplish their respective missions, providence orchestrated in its perfect timing a course of events that would have their paths cross, resulting in a powerful "meeting of the minds".
A commonality of shared vision and values became clearly evident, leading to the emergence of a symbiotic epiphany: One was better than two.
To accomplish the vast, expansive and all-encompassing vision of enriching people's lives, and maximizing the company's positive impact on the planet, the EKBD partnership was formed, initially starting with international expansion covering 10 countries in the Asia Pacific region.
About Elken
Since its establishment in 1995, Elken's vision has always been to enrich lives. It has unfalteringly lived up to its philosophy of "Elken builds you. To build others." At Elken, our foundations are also based on trust and nurturing people and building various aspects of their lives, including health, PERSONAL development, confidence, financial well-being, careers and families. In turn, Elken Members have gone on to share the opportunity in a meaningful way.
As one of the leading direct selling companies in Malaysia, Elken has become a sterling example of a home grown success. It has also established a stronghold in nine countries in the Asia Pacific region, namely Hong Kong, Taiwan, Vietnam, Cambodia, Philippines, Thailand, Indonesia, Brunei and Singapore. For more information please visit www.elken.com
About ByDzyne™
ByDzyne's multi-faceted approach disrupts the traditional industry model by first understanding that one size DOESN'T fit all.
You were born into a particular culture, with unique tastes, interests, and desires. ByDzyne™ was created with a mission to celebrate your uniqueness and empower your extraordinary potential. Our exceptional "culture-crafted" products meet distinct needs in key consumer markets, and our lucrative business opportunity was formulated to fuel your ideal lifestyle, as YOU see fit.
Our visionary leadership wanted to create an unparalleled company with your individual needs in mind, whether as a consumer or Brand Ambassador. This customizable approach is a driving force that propels everything we do and will do in the future. We are launching into not one but FOUR of the fastest growing multi-trillion dollar industries, creating one of the most explosive opportunities in the market, starting with technology, beauty, wellness, and travel.
Our mission is to continue to expand our global footprint into multiple verticals to maximize your income opportunities, capitalize on trends, and gain market share in upcoming industries as they advance. Soon we will be adding a digital category to our product lineup, further strengthening our value proposition.
Through ever-evolving innovation, and with the utmost integrity, our experienced executive team strives to stand apart from the pack, and build a legacy you can be proud of; one you can truly call home. We are ByDzyne™. Where limitations don't exist. For more information please visit www.bydzyne.com.
Recommended Distributors