Gabriela Salgado From Mexico Achieves Diamond Rank At Success Factory – Dagcoin
November 4, 2019
By Team Business For Home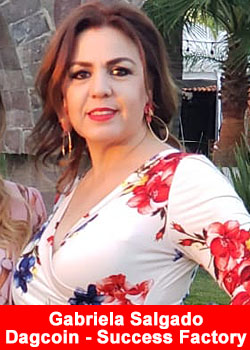 Success Factory is an international company, and this week, we're getting back to one of the most active regions of the global network.
Gabriela Salgado, from Mexico, a member of the famous Success4All team, founded and led by Igor E. Alberts and Andreea Cimbala, can now boast a new achievement, which is the rank of Diamond.
Gabriela is a professional networker with no less than 5 years of experience in the industry. About her beggings, she tells us that network marketing wasn't her first choice in life, although it became the ultimate one.
"For many years, I'd been invited to companies, but I didn't really believe in network marketing. Maybe, because I though that networks couldn't really transmit the right concept.
Things changed when I considered the results of a very successful woman, and this is where I turned to some great mentors, such as Robert Kiyosaky and Jim Rohn. And I decided to join the industry."
Important names without any doubt. However, after a brief success at the very beginning, Gabriela bumped into a situation where the opportunity of her choice was no longer reliable.
"I thought that the main thing I had to do I to find the right place. But in the end, the company I joined got sold, and I even went bankrupt. It's not easy to find the right opportunity."
Gabriela joined Success Factory more than a year ago by the invitation of Mario Vielmas and Giovanna Renteria. After witnessing the Panama event in 2018, her enthusiasm was ever growing.
"My trip was very impressive. I fell in love with the vision and I felt the hearts of the people on this project. I got scared at first,  because I had no knowledge about cryptocurrencies, but let myself be guided. I ran my career at my own pace, but always with focus and discipline.
My experience has been very rewarding. Success Factory has given me much more than what it offered at the beginning. Its honesty, transparency and clarity have been fundamental for me. I think I've got incredible results so far, because I have achieved one of the dreams of every networker to become a Diamond."
Gabriela hasn't been recognized for her new rank yet, but she's no less excited about this achievement. She shares some of her vision for the future:
"I just want to continue with my legacy and help to migrants. I'm close to many ranks in my mind and I know that I will achieve them.
I thank my mentor Mario Vielmas and his wife Giovanna, as well as our colleagues Igor Alberts and Andreea Cimbala. I'm grateful to each of the members of my team, my Success Factory family, for making this project possible. My rank is the result of the work of a whole team that has believed in me.
I'd like to add some advice: love what you do so that you do it with passion. Focus and more action bring results."
About Dagcoin
We believe that cryptocurrencies are here to be a step up from regular money. This means improving the speed of transactions while reducing the cost, giving access to money to more people with lesser restrictions and limitations, giving more freedom to transact.
And at the same time preventing fraud and illegal activities. Dagcoin was created to fulfil all of these criterias – to become a digital version of money that people can use all around the world. Our currency is meant for using. This means that in the future you will be able to do everything with dagcoins. That includes getting paid, going shopping, exchanging, taking loans, paying for services, travelling, and almost everything else that comes to your mind. For more information please visit www.dagcoin.org